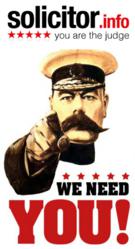 People seem to trust genuine reviews far more than traditional advertising and we are seeing increasing numbers actively searching for them online
UK (PRWEB UK) 10 August 2012
Solicitor.info is an independent review and rating website for the legal profession with the goal of helping people find the best solicitor for their needs by collecting and displaying reviews and opinions directly from clients. New records show an ever increasing number of visitors and page views as people search out solicitors' reviews online.
Founder David Sprake says "people seem to trust genuine reviews far more than traditional advertising and we are seeing increasing numbers actively searching for them online. Likewise people who have received exceptional or terrible service appear to be more keen to share their experiences with others like never before." Solicitors can be recommended by leaving a review at solicitor.info.
Solicitor.info are trying to find the UK's best solicitor firms and are looking for stories and recommendations of solicitors who have gone that extra mile, and who have offered service far beyond expectations.
In its first six months of operation (from 6th October 2010 to 31st March 2011) the legal ombudsman who deals with complaints about solicitors was contacted 38,155 times and 3,768 cases were opened. In addition, the SRA (Solicitors Regulation Authority) prosecute, strike off or close down many solicitors on a weekly basis. Solicitor.info believes finding a good solicitor can be difficult without any prior knowledge or recommendations - and that is something people shouldn't have to worry about especially when they may be in a situation that, in itself, may well be stressful and or upsetting. Word of mouth recommendations can be powerful indicators of quality and readers are invited to recommend their solicitor firm if they wish – in doing so they will be helping others avoid pitfalls and help others find quality legal services.
Some Solicitors do see the marketing potential of having good reviews presented on such a website to attract new customers. As such, forward thinking solicitors who are confident in their quality have embraced solicitor.info with several actively asking their clients to leave reviews. Sprake claims "good solicitor firms are receiving benefits from being well reviewed as people who view them may well go on and instruct them". He goes on to say that "I have also had a few emails from people asking is there a reason why a solicitor firm they are they are thinking of instructing is not included on Solicitor.info" which just highlights the growing importance of having a presence with up-to-date reviews on this website.
Solicitor.info has responded to its popularity by creating a new improved version of its website with a search feature where viewers can search for specific areas of law required as well as geographical location and looks set to go from strength to strength.
About Solicitor.info
Solicitor.info was founded in 2008 to try to find people a decent Solicitor firm. For further information David Sprake can be contacted on +44 (0) 7973 501853, http://www.solicitor.info/contact-us/ or @solicitorinfo