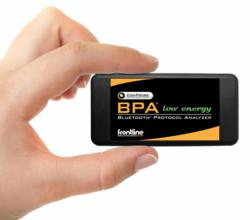 ...the most portable Bluetooth low energy analyzer solution on the market.
Charlottesville, VA (PRWEB) August 11, 2012
Frontline Test Equipment, Inc. is pleased to introduce the ComProbe BPA low energy Bluetooth Protocol Analyzer, the latest addition to their trusted ComProbe family of analyzers. The BPA low energy analyzer is a powerful, USB powered, portable, Bluetooth low energy protocol analyzer – perfect for use in the field or the lab.
Bluetooth low energy technology is poised for tremendous growth because of its integration into numerous devices across multiple marketplaces – smartphones, health and fitness, home entertainment, business, gaming, construction, and even clothing. This short-range wireless technology is the interface of choice to communicate data about the world around us. Bluetooth low energy wireless technology provides a robust, simple and secure means for devices to communicate with each other using very little power. One device might be able to communicate for years using just a small watch battery.
In January of 2009 Frontline introduced the world's first ever Bluetooth low energy protocol analyzer – Frontline Bluetooth low energy Analyzer (FBleA). The ComProbe BPA low energy Bluetooth Protocol Analyzer is the next step in Bluetooth low energy protocol analysis. It is has a form factor 5 times smaller than the FBleA analyzer and, more significantly, it is USB powered and does not require an external power supply. This makes the ComProbe BPA low energy analyzer the most portable Bluetooth low energy analyzer solution in the market. It supports all Bluetooth low energy specification, profiles, and protocols. And being a ComProbe analyzer it comes with the best decodes on the planet!
Companies developing Bluetooth Smart devices will find the ComProbe BPA low energy Bluetooth protocol analyzer invaluable as they create new and innovative products using Bluetooth low energy wireless technology. With this new product, Frontline continues its long tradition of providing engineers with the right tool for the job.
Frontline uses a modular approach to protocol analysis and has created the ComProbe Analysis System. Each Frontline ComProbe analyzer uses a specific hardware interface for the technology being tested – Bluetooth, 802.11, USB, High Speed UART, and SD/SDIO. Each can work individually or in combination with other ComProbe hardware interfaces through Frontline's core ComProbe software running on a PC. No other tool on the market can do that. This modular approach provides engineers with a rich set of analysis tools and features in a uniform, consistent, and intuitive software platform. The right tool is a must. With Frontline tools you can "Debug Communications Faster℠".
About Frontline
Frontline is the world's leading provider of Bluetooth protocol analysis technology and the premier Bluetooth device interoperability testing(IOT) and Bluetooth services house. 84 out of the Fortune 100 companies use Frontline. Frontline's ComProbe line of Bluetooth analyzers are the de-facto industry standard and are used by hundreds of company's globally including, CSR, Broadcom, Atheros, Apple, Nokia, Samsung, Sony, Toshiba, Panasonic, and Marvell. Frontline maintains the world's largest Bluetooth device library for use in its IOT service organization. Frontline's technology has been integrated into the Bluetooth SIG's PTS qualification tool which is the system used to determine if a product meets Bluetooth interoperability standards. Frontline supports the entire range of Bluetooth technology: Basic Rate/Enhanced Data Rate, low energy, and High Speed.
###