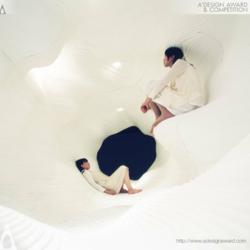 Como, Italy (PRWEB) August 11, 2012
A' Award and Competitions are proud to inform that the project Artificial Topography by Architect Ryumei Fujiki has been awarded with the famous Platinum A' Design Award in Arts, Crafts and Ready-Made Design Category selected as one of the winners by the respected arbiters of the A' Design Awards & Competitions among a great number of submissions.
Insights on Artificial Topography
Ryumei Fujiki, the lead designer of the winning project Artificial Topography demonstrates "Big Furniture Like a Cave This is the award-winning project won the Grand Prize of Art in Container International Competition. My idea is to hollow out the volume inside a container in order to build amorphous space like a cave. It is made of only plastic material. About 1000 sheets of the soft plastic material of 10-mm thickness were cut down in contour line form and were laminated like stratum. This is not only art but also big furniture. Because all the portions are soft like a sofa, and person who enter into this space can relax by finding the place suitable for the form of its own body." Learn more about the award winning design: http://www.adesignaward.com/design.php?ID=25052
Creative Team for Artificial Topography
Artificial Topography was realized by Architect: Ryumei Fujiki, Design Firm: Fujiki Studio (KOU::ARC), Team Members: Kensuke Kawamura, Yoshiki Tachi, Shun Simoya, Kohaku Furihata, Yuki Sakurada, Toshihiko Hatori, Yoshito Fukaya, Yuji Uemura, Yuki Ishigami, Collaborator: Yukiko Sato (F.A.D.S), and Photographer: Masahiro Hoshida.
The Platinum A' Design Award
The Platinum A' Design Award is a prestigious award given to top 1% percentile designs that has accomplished an exemplary level of greatness in design. The designs are judged by a panel of three different jury which is composed of Academic, Professional and Focus Group Members. The designs are evaluated with score normalization to remove any biases and are voted on aspects such as functionality, ergonomics, engineering, presentation, innovation, usability, fun details, technology, and any other specific points that could be considered, each of these points are further weighted for different jury groups.