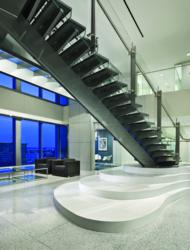 Boston, MA (PRWEB) August 13, 2012
Intellectual property law firm Fish & Richardson has a long history of representing great innovators. From Thomas Edison and the Wright Brothers to Adobe and Genzyme, Fish & Richardson's legal professionals have played an important role in fostering advancement and innovation.
Design firm ADD Inc envisioned the new Boston office of Fish & Richardson as a celebration the firm's pioneering spirit and embraced the opportunity to foster the exchange of knowledge amongst staff through innovative law firm design practices.
Located in Boston's burgeoning Innovation District, the offices of Fish & Richardson stand at the crossroad of historic landmarks and 21st century urban planning. Development of the district responds to Mayor Menino's mandate to reinvent the industrial South Boston waterfront as a platform for entrepreneurship. Breaking from a pack of downtown law firms vying for staid office space, Fish & Richardson elected to join the individuals, start-ups, and forward-thinking companies that fuel the city's creative economy.
The design of the Fish & Richardson office responds to the unique demands of intergenerational convergence in the workplace. Divergent work styles often place the firm's staff of Baby Boomers and Millennials at odds and hinder communication. Younger attorneys, though less reliant on support staff, often lose themselves in technology at the expense of human interaction and valuable learning opportunities. In response, ADD Inc devised tailored solutions based on observation and analysis to foster collaboration. Walls of glass and perimeter open spaces bathe the new Fish & Richardson office in natural light, maximize access to views, and encourage socialization. Shared collaborative spaces provide common work areas and facilitate impromptu interaction.
The offices of Fish & Richardson showcase innovative practices in law firm design. Varied support spaces include a flexible, two-story reception and conference center that expands provide a flexible event and function space. The design also marks a shift away from traditional law libraries to electronic information management. The library is now an open and inviting reading and research area.
ADD Inc designed the office to include materials and details that pay homage to Fish & Richardson's rich history and corporate culture. The iconic staircase, with its Corian® base and basaltina treads, references a fish's back bones rising out of a glacial body of water. Ingenious light fixtures in the cafeteria bring to mind sequences of human DNA and underscore the firm's contribution to advancements in biomedical science. In conference rooms, pendant lights feature a hologram of the light bulb designed by Thomas Edison, one of the firm's earliest clients.
The design fuses collaboration and a commitment to creative thinking to produce one of the most innovative and functional law firm spaces in the Northeast.
ADD Inc, a premier architecture and design firm, creates award-winning projects across the country from its offices in Boston, MA and Miami, FL. With an innovative spirit and deep expertise, the firm's design teams develop a guiding vision for each project to enhance value and enrich communities. By merging that vision with collaboration and business savvy, ADD Inc delivers consistently notable results in workplace, mixed use, academic, retail, branding and residential design. For more information, visit http://www.addinc.com.