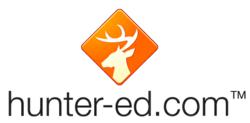 "The partnership we developed with hunter-ed.com and Crosman meets our goals to a T." said Brian Blank, director public affairs for the Kentucky Department of Fish & Wildlife Resources
DALLAS, Texas (PRWEB) August 09, 2012
Kentucky youth can qualify for a free hunting license at the 2012 Kentucky State Fair by completing the live-fire requirements to receive their hunter education card. The first step is to complete a classroom course or receive state-approved training and a $5 discount at hunter-ed.com/kentucky.
This exclusive free hunting license offer is available to the first 500 youth between the ages of 11 and 18. To qualify, youth must present their hunter ed orange card, number, or course completion certificate from hunter-e.com/kentucky, and sign-up at the Fish & Wildlife booth. Plus, eligible youth also can sign up for a free mentored hunt.
"The partnership we developed with hunter-ed.com and Crosman meets our goals to a T." said Brian Blank, director public affairs for the Kentucky Department of Fish & Wildlife Resources "It means we can offer a high quality education at a discount while clearing the way so Kentucky's young people can go hunting."
Participants are encouraged to review information about the offer, which is only valid at the 2012 Kentucky State Fair. To qualify, complete the 2012 Kentucky State Fair Hunting License Offer online, print out the confirmation page and present it at the Kentucky Department of Fish & Wildlife booth at the 2012 Kentucky State Fair.
Students who want to complete their state-approved hunter safety course online should visit http://www.hunter-ed.com/kentucky. Features such as realistic illustrations and interactive animations at hunter-ed.com make it easy for students to learn how to be safe and responsible hunters. Plus, an optional narration feature allows students to listen, read or both.
The 2012 Kentucky State Fair is held Aug. 16-26 at Kentucky Exposition Center in Louisville, Ky.
About Kalkomey
Kalkomey, parent company of hunter-ed.com, is the official provider of recreational safety education materials for all 50 states. Our print and Internet courses have been providing official safety certification since 1995. We provide safety courses in boating, hunting, bowhunting, and off-road vehicle (ORV) and snowmobile operation. For more information, visit http://www.kalkomey.com.