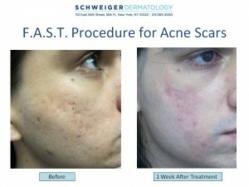 We are finding patients with focal acne scars are doing unbelievably well with a single treatment.
New York, NY (PRWEB) August 10, 2012
Eric Schweiger, M.D., F.A.A.D., Board Certified Dermatologist and founder of Schweiger Dermatology and Clear Clinic in New York, has pioneered a new technique for the treatment of acne scars. Coined "F.A.S.T.", an acronym for Focal Acne Scar Treatment, the procedure utilizes the most cutting edge laser technology (fractional CO2 laser) in a revolutionary way to treat acne scars. Previously, it has been presumed that when performing facial laser procedures (even with fractionated lasers that leave areas intentionally untreated), that it was necessary to treat the whole face or the patient would run the risk of being left with an uneven complexion. "Not so with the F.A.S.T. technique", says Dr. Schweiger. "We are finding patients with focal acne scars are doing unbelievably well with a single treatment, and are not having pigmentation problems".F.A.S.T has already been featured and FOX News and a study on F.A.S.T. has been completed and submitted for publication in a major medical journal.
The key to the effectiveness of the F.A.S.T. procedure is Dr. Schweiger utilizing high laser energy and focusing only on the acne scarred area, leaving the rest of the face untreated. "It is a double fractional approach" explains Dr. Schweiger. "We are using high dose fractionated laser to treat only a fraction of the face."
The theory behind F.A.S.T. was developed by Dr. Schweiger after his extensive use of both the Fractional Erbium and Fractional CO2 lasers throughout his career. Having treated over 500 patients with these lasers, Dr. Schweiger has gradually perfected different techniques to get optimal results. He then paired this expertise with his knowledge and experience with an older technique utilizing a similar theoretical model to treat acne scars with chemical peels (known as the CROSS method), which further cemented that the F.A.S.T. technique was a logical way to aggressively and effectively treat acne scars. Dr. Schweiger has now treated numerous patients using this technique with outstanding results.
For more information, contact Jim Rees at 212-283-3000 or visit http://www.nyccosmeticdermatology.com and http://www.clearclinic.com
About Dr. Schweiger
Dr. Schweiger is a Board Certified Dermatologist and an Assistant Clinical Professor of Dermatology at Mount Sinai Medical Center in Manhattan. He has authored numerous articles on laser techniques that have been published in many medical journals. Dr. Schweiger has also appeared on numerous television programs and has been quoted in many publications, including CBS News, Allure, Good Morning America, Glamour, Fox News, Cosmopolitan, In Style and ABC News.
About Schweiger Dermatology
Schweiger Dermatology is a state of the art dermatology facility located in midtown New York City. Schweiger Dermatology offers treatment for all areas of medical and cosmetic dermatology. Schweiger Dermatology specializes in using the latest techniques to provide non-surgical cosmetic treatments to its patients. Each patient's goals are addressed with a customized plan to meet his or her individual needs.
About Clear Clinic
Clear Clinic is the first dedicated acne treatment center focusing solely on the treatment of patients with active acne and acne scars. Under the supervision of leading acne specialist, Dr. Eric Schweiger, Clear Clinic is staffed by board certified dermatologists, board certified physician assistants, licensed clinical estheticians, makeup artists, and mental health professionals to fully provide our patients with complete care. From cortisone injections and extractions to fillers and cutting-edge lasers, Clear Clinic uses a multi-pronged approach to treating acne and acne scars. Each Clear Clinic patient receives a customized plan tailored to his or her specific needs. Clear Clinic is the first and most important step to acne-free skin.