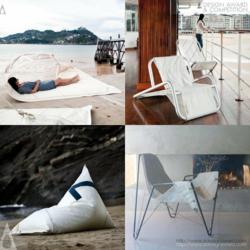 Como, Italy (PRWEB) August 16, 2012
A' Award and Competitions are happy to inform that the recycled designs by Dvelas Design Team has been acknowledged with the famous A' Design Award at Textile, Fabric, Textures, Patterns and Cloth Design Competition selected as one of the winners by the international judging committee of the A' Design Awards & Competitions within a great number of nominations.
Details of Dvelas
Enrique Kahle, the creator of the awarded project Dvelas says "DVELAS promotes the recovery of used sails to transform them into contemporary designs, emerging as a creative reaction to harness the vast amount of material disposed from sailing ships, taking their aesthetics, materials, techniques and forms as a new way and inspiration for design. DVELAS produces in Limited Editions and Unique Editions: These series originating from a specific sail, are identified with a tag with data about the source of the sail as the homeport, the sailboat, the type of sail and the original sailmaker." Learn more and download high-resolution photos at: http://www.adesignaward.com/design.php?ID=24327
Design Team for Dvelas
Dvelas team is composed of Architect Enrique Kahle, Designer Arraitz Koch, Architect Esperanza Kahle, and Architect-Sailmaker Borja Fuentes.
The A' Design Award
The A' Design Award is a prestigious award given to top 20% percentile designs that has attained an exemplary level of quality in design. The designs are judged by a panel of three different jury which is composed of Academic, Professional and Focus Group Members. The designs are evaluated with score normalization to remove any biases and are voted on aspects such as functionality, ergonomics, engineering, presentation, innovation, usability, fun details, technology, and any other specific points that could be considered, each of these points are further weighted for different jury groups.