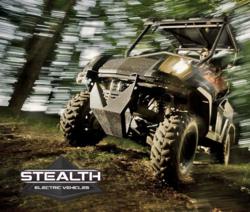 Atlanta, GA (PRWEB) August 30, 2012
Stealth Manufacturing, LLC has quietly launched their redesigned website at http://www.StealthSideBySide.com but the effect has been loud and clear on their plans. Stealth's new website was made public on August 30th, 2012. It offers quick and easy access to essential information on their unique side-by-side UTV's. Its part of the company's ongoing outreach program to enhance the availability of essential information to powersports pros and outdoor enthusiast that utilize their specialized vehicles.
The website boasts a wilderness design featuring the look of tough terrain ahead. It introduces the visitors to who they are, what they do and where they play. Endorsements by leading outdoor television shows echo the fact that professionals in the field are operating Stealth UTV's in every environment. It reveals highly anticipated new vehicle announcements and national financing programs; providing a great opportunity for you to own a premium side-by-side vehicle.
The website's user-friendly nature provides visitors with efficient access to each vehicle's specification. This allows the user to download a profile of each model in a flyer form. Information such as: power source, drivetrain & suspension, standard equipment, optional equipment, dimensions, and special features are at your finger tips for comparison. The enhanced easy navigation promotes its functionality over the previous design. The new format effectively represents the UTV products, services and practices associated with the Stealth brand and all its resources are available at http://www.StealthSideBySide.com.
About Stealth: Atlanta, GA – based Stealth Manufacturing, LLC, is a premium electric and hybrid side-by-side UTV vehicle manufacture. Their vehicles are "Made in America" and can be found at local outdoor and powersports dealers nationally. To schedule a demonstration and receive personalized service from a local authorized Stealth Dealer start by selecting the dealer locator tab on their newly redesigned website. To learn more, visit http://www.StealthSideBySide.com.