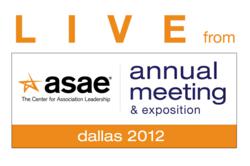 We are grateful that TMA Resources is working with us to help conference attendees engage and
Vienna, VA (PRWEB) August 10, 2012
More than 5,000 association professionals and industry partners from around the globe will gather in Dallas, Texas, August 11-14 for ASAE Annual Meeting & Exposition. To help keep attendees abreast of hot topics and events throughout the conference, TMA Resources, in partnership with ASAE and the Canadian Tourism Commission, will be producing a video series entitled, "Live from ASAE Annual."
The first official video updates from ASAE's Annual Meeting & Exposition,"Live from ASAE Annual" will feature a variety of industry professionals covering conference "buzz" on everything from challenges and solutions covered in educational sessions, to what's new on the exhibit floor to what to expect at ASAE sponsored events. The one to three-minute videos enable attendees to quickly consume relevant conference information. New episodes will be released via social media channels throughout the entire length of the conference.
The Vice President of Marketing for TMA Resources explains, "Because it is so content rich, video has the ability to communicate a great deal of information in a very short time. TMA Resources is very pleased to be working with ASAE to bring the sights and sounds of the ASAE Annual Meeting to those attending the meeting in Dallas as well as to those following along from home."
Dan Melesurgo, ASAE's Vice President, Strategic Partnerships says, "The conference schedule is a packed one—complete with more than 120 educational sessions, a nearly sold-out exhibit hall and unmatched networking opportunities. We are grateful that TMA Resources is working with us to help conference attendees engage and make the most of this event."
Each video will be hosted on the "Live from ASAE Annual" Web site. For up-to-the-minute updates on new videos, follow @tmaresources on Twitter.
####
TMA Resources, Inc: Headquartered in Vienna, Va.: TMA Resources, Inc. and its team of highly skilled professionals produce association management software solutions and provides managed hosting services. Clients include many of the most prestigious professional societies, trade associations, labor unions, and other member-centric organizations in the United States and overseas. TMA Resources was named #288 on the Software 500 listing and is listed as one of the largest technology employers in the Washington, D.C. metropolitan area by the Washington Business Journal.