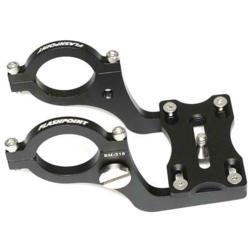 The Adorama Photo Bazaar is a unique online emporium featuring products that photographers may not even know they need.
Chelsea, New York City (PRWEB) August 10, 2012
Adorama is the go-to gear source for photographers in the know. Unfortunately, busy photographers often don't stop to browse the huge Adorama.com website, which contains an eye-popping 100,000 items. That means they miss out on lots of products that are useful, affordable, and just plain fun.
To make these items easier to find, Adorama created its Photo Bazaar—a unique online emporium featuring products that our in-house experts think photographers may not even know they need. But the Photo Bazaar isn't just for photographers. Clear, light-hearted descriptions of its products' purposes and benefits allow anyone shopping for the photographer in his or her life to quickly find the perfect gift.
Since the Adorama Photo Bazaar was created with photo gifts in mind, it's no coincidence that the items it contains are highly affordable—often much less expensive than competing products. This is partly because Adorama offers its own in-house brands, including popular product lines such as Flashpoint tripods and Pro Optic lenses. Photographers on a budget are sure to be impressed when they see the unbeatable prices at the Adorama Photo Bazaar.
Some of the products they'll find actually let photographers get more from their existing equipment. Our affordable Flashpoint 2X Teleconverters, for example, give much higher magnifying power to a lens that ordinarily doesn't have the "reach" for a sports or wildlife subject—filling the frame with a lion on safari or a pint-sized soccer player driving the ball into the net. And that means photographers don't have to spend lots more money on an expensive telephoto lens. Likewise, our Pro Optic Auto Extension Tubes turn an ordinary lens into a close-up lens, allowing you to shoot the tiniest details without the need to buy an expensive, specialized macro lens for your camera.
Other offbeat but highly affordable products include the Adorama Macro-Flecta ($19.95), a lens attachment that bounces light into close-up subjects to brighten unattractive shadows; the Adorama De-Shadow box ($29.95), perfect for photographing items you plan to sell on eBay; the Flashpoint Bike Bracket (39.95), for shooting stills or video with a camera mounted on your handlebars; stick-on grips for a more secure, sharpness-enhancing hold on your compact camera; and Secure Digital memory cards that give your camera the ability to transmit pictures wirelessly to your computer. Curiosities include the Adorama Mirror Scope, which lets you shoot subjects at a right angle—without them knowing!
The Adorama Photo Bazaar will be refreshed on a monthly basis, so visitors should check back often for more offbeat and valuable products. And while they're visiting Adorama.com, they should also take a look at Adorama's iPhone Toolshed, Adorama's special selection of photographic inventions for the world's most ubiquitous camera—and the top online resource for iPhoneography accessories.
About Adorama: As one of the nation's largest photo retail and mail order suppliers, Adorama has served professional and amateur photographers for 33 years. It has recently expanded its service to the community through online photo education (the Adorama Learning Center and Adorama TV) and on-site workshops, programs that make it a unique industry resource. Adorama's vast product offerings now encompass home entertainment, mobile computing, and professional audio, while its services include a Professional Imaging Department, an in-house photo lab (AdoramaPix), and pro equipment rental (Adorama Rental Company). Knowledgeable staff and unbeatable pricing make Adorama a one-stop shop for all your photo and technology needs. Visit adorama.com.