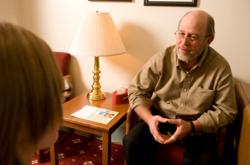 There is this feeling of helplessness, hopelessness—when in fact, people can be effective in their own healing.
Williamsport, PA (PRWEB) August 09, 2012
Stress is a common denominator in daily life, whether it is triggered by a major event or just a long line at the grocery store. For Susquehanna Health (SH) Psychotherapist Kim Maser, helping patients manage stressful life situations and providing tools to help them live healthier lifestyles is just as common. Through her work with patients in the SH Behavioral Health department, Maser regularly sees individuals of all ages and socioeconomic status struggling to cope with the stress in their lives.
"Stress is your body's response to the pressure of everyday living," says Maser. Events that trigger a stress response can include starting school, moving, losing a job, getting married, getting divorced, gaining weight, having a baby, facing financial hardship, becoming ill and experiencing the death of a loved one. According to Maser, triggers create stress that can result in physical changes in the body including increased heart rate, disrupted sleep, high blood pressure, nervousness, digestive upset, pain, headaches and muscle tension. Emotional and behavioral signs of stress can include a sense of foreboding or catastrophe in the absence of real danger, avoidance of people or places, dependence on drugs, alcohol or overeating. "Often, the stress reaction resolves when the stress is resolved," explains Maser.
Although there are instances in which stress is good, such as when it motivates us to take positive action or to make lifesaving choices in threatening situations, undetected or unmanaged stress can negatively impact your health and even speed the process of aging. Chronic stress can lead to greater vulnerability not only to heart disease, high blood pressure, obesity, substance abuse and weakened immunity to illness, but may also result in anxiety disorders which are more intense and enduring forms of stress. These disorders, including phobias, post traumatic stress disorder and obsessive compulsive disorder, interfere significantly with daily functioning. "This is when a lot of people seek treatment," explains Maser. When medication is indicated as an adjunct to therapy, Maser works in collaboration with a psychiatrist.
"It is important to educate people about the signs and symptoms and to provide help with coping strategies and interventions," says Maser. "There is this feeling of helplessness, hopelessness—when in fact, people can be effective in their own healing." Maser works with each patient to understand how factors like personality, childhood experiences, major life events or biological makeup affect their perceptions of life events. Then she applies the appropriate therapy such as cognitive behavioral therapy (CBT), which helps patients identify and change thoughts and irrational beliefs that lead to anxiety and self-destructive behavior. With her help, patients employ affirmations, mindfulness meditation, visualization, abdominal breathing and other relaxation techniques to overcome negative patterns of thought and behavior.
Stress interventions encourage patients to replace unhealthy, unproductive behavior with healthy, productive behavior, according to Maser. For example, improving diet and exercising are two healthy ways to overcome stress; however, someone struggling with obesity who may have been unsuccessful with diets or exercise routines may benefit from participating in a self-help group for support and to understand they are not alone in their struggle. "There is no cookie-cutter approach, because everyone is different," explains Maser.
Combating everyday stressors may be easier than one thinks. University of Kansas psychologists Tara Kraft and Sarah Pressman recently studied a group of college students to prove that the simple act of smiling reduces stress. Although Maser cautions that smiling isn't the solution, she believes it could "help change our circuitry" related to the stress response and may have a positive effect similar to affirmation and visualization.
Maser also recommends the following steps to reduce stress:
Talk with a friend or clergy member
Keep a journal
Eat a balanced diet
Limit or avoid caffeine and alcohol
Exercise regularly/stay active
Get proper amount of sleep
Schedule time to relax
Think positively
Even the simple act of praying helps some individuals reduce stress. "Many people struggle with a lack of meaning and a lack of purpose," adds Maser. Finding a healthy hobby like crossword puzzles, jig saw puzzles, listening to music or making jewelry can also be calming.
Susquehanna Health's LifeCenter will offer a special workshop entitled "I'm All Stressed Out!" to provide information about stress, how it affects the body and tools to help stop the stress response. The workshop is scheduled Tuesday, August 21 at 11 am at the Lycoming Mall, Pennsdale, PA. For more information, call 1-877-883-4791. For additional information on SH Behavorial Health, call 570-320-7525 or visit SusquehannaHealth.org.
About Susquehanna Health
Susquehanna Health is a three-hospital integrated health system including Divine Providence Hospital, Muncy Valley Hospital and Williamsport Regional Medical Center located in northcentral Pennsylvania. Serving patients from an 11-county region, Susquehanna Health is a healthcare leader and has been recognized at the national and state levels for quality of care. Susquehanna Health offers a wide array of services that include cancer care, heart and vascular care/heart surgery, neurosciences including neurosurgery, orthopedics, urology, OB/GYN, gastrointestinal services, behavioral health, physical rehabilitation, home care, long term care, assisted living and paramedic/ambulance services.