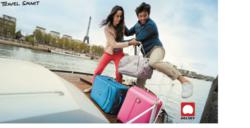 Delsey has behind its name nothing less than 9 awards for their innovation and design technology
Kent (PRWEB UK) 13 August 2012
Delsey's history goes all the way back to 1911 when it first manufactured cameras, covers for typewriters and record players. When the company, the Etablissements Delahaye joined forces with Seynhaeve brothers in 1946, the names were combined to create "DELSEY" which started to specialise in travel items. Today Delsey is an international brand distributed in more than 110 countries worldwide and 5 continents.
One of the leading brands in its home country, France, Delsey is a recognised brand in department stores and developed markets like, Japan, Hong Kong and Korea etc. In 1970 Delsey used its technology to create the first French, high-range, rigid ABS luggage line – the DELSEY AIRSTYLE suitcase. Working through the years, from manufacturing cases on rigid wheels to rigid luggage in injection-moulded polypropylene and then on to the present with light weight cases and smooth flowing wheels brought about through constant pursuit of innovation.
Delsey has behind its name nothing less than 9 awards for their innovation and design technology. Delsey luggage is subjected to rigorous tests of quality for homologation so that when the cases hit the market, the best quality can be guaranteed.
The brand has created many ranges to suit a variety of tastes and styles that would appeal to a wide scope of travellers. Just to mention a few , it spans from Trolley cases, Wash bags, Reporter Bags, Garment Covers, Duffle bags, Computer Cases and many more.
You can choose in confidence with the Delsey brand knowing that you are getting lightweight, quality luggage with no compromise on functionality.
Luggage Superstore established site is in West Kingsdown, Kent. Their aim is providing competitive prices of the highest quality luggage and top calibre Customer Service for online luggage shopping.
Trina Chee-a-kwai
Luggage Superstore
01474 854666
Email information