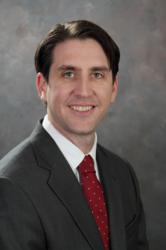 Camden, New Jersey (PRWEB) August 10, 2012
Scott J. Gabler, MD has recently joined Associated Cardiovascular Consultants (ACC), one of the largest cardiology practices in southern New Jersey and an affiliate of Lourdes Cardiology Services, as an attending cardiologist.
Dr. Gabler comes to Lourdes from the cardiovascular disease fellowship program at Thomas Jefferson University Hospital in Philadelphia, which has a longstanding history of excellence in cardiovascular research, teaching, education and patient care.
Prior to his fellowship at Jefferson, Dr. Gabler served as Chief Resident and an instructor for the Department of Medicine at UC Davis Medical Center. He also completed his internship in medicine at the Sacramento-based medical center. He received his medical degree from Tulane University School of Medicine in New Orleans.
Dr. Gabler specializes in noninvasive cardiology with an emphasis on advanced imaging techniques including 3D echocardiography. He has presented various lectures, including pulmonary arterial hypertension, emergency echocardiographic findings and diagnosis and treatment of infiltrative cardiomyopathies. He is also a member of the American College of Cardiology.
Dr. Gabler resides in Philadelphia, Pennsylvania.