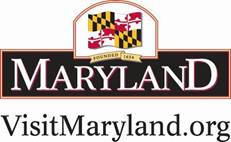 Baltimore, MD (PRWEB) August 09, 2012
Maryland welcomed 34.4 million domestic travelers in 2011, an increase of 6.8 percent from 2010 and an increase of 26 percent from 2007's 27.2 million visitors, according to a national survey of U.S. travelers conducted by D.K. Shifflet and Associates, a leading tourism industry research firm.
Growth has occurred in all segments – both business and leisure, as well as both day trips and overnights. Maryland has increased market share 16.9 percent since 2007, outperforming national and regional trends during this challenging economic climate.
"Our state's tourism industry is a powerful economic engine," said Maryland Gov. Martin O'Malley. "Tourism is a major generator of jobs, employing nearly 130,000 Marylanders. The impact of visitors proves that our investments in visitor experiences provide valuable returns to tourism communities across the state from Oakland to Ocean City."
Maryland's 26.4 percent increase – representing an additional 7.2 million visitors from 2007 to 2011 – was substantially greater than the 8.1 percent increase the United States saw during this same time period. Maryland's increase in visitation was significantly greater than the performance of other mid-Atlantic states.
"This report underscores the success of our strategic regional promotional efforts," said Margot A. Amelia, executive director of the Maryland Office of Tourism. "We focused our tourism marketing efforts on key feeder markets in FY2008, and began to communicate year-round to prospective visitors in 2008 through a variety of digital and traditional channels. An image and awareness study in 2009 with prospective visitors ensures we promote our most motivating messages."
About D.K. Shifflet & Associates Ltd.
D.K. Shifflet & Associates, founded in 1982, is a full-service syndicated and custom market research and strategic consulting company that helps public and private entities of the travel and hospitality industry throughout North America to make intelligent marketing decisions.
Travel Volume Metrics Travelers, for purposes of this report, are measured by person-trips. Person-trips measure how many unique people visited a destination. Example: If the travel party consists of four people, then the trip would consist of four person-trips. This does not include multiple visits on a trip or visits to multiple destinations within a state on a trip.
About Maryland Tourism
The Maryland Office of Tourism is an agency of the Division of Tourism, Film and the Arts within the Maryland Department of Business and Economic Development. Visitors to the state spent more than $13.1 billion on travel-related expenses in 2010. During 2010, the Maryland tourism industry also generated close to $1.9 billion in state and local taxes and provided 130,000 jobs to Maryland residents.