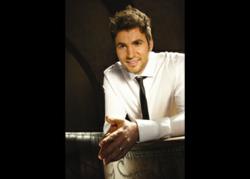 Miami, FL (PRWEB) August 11, 2012
Following a recent sold-out concert tour of the United Kingdom with soprano Katherine Jenkins and the National Symphony Orchestra, the popular young American singer-songwriter Nathan Pacheco is seen in his first solo concert special for public television. Accompanied by renowned musicians, Pacheco performs beautiful original compositions along with newly created renditions of beloved classics. Introducing Nathan Pacheco premieres on WPBT2 on August 16, 2012 at 8:00pm. Pacheco will also be live in the WPBT2 studio, and viewers can tune-in to receive information on an upcoming Miami concert.
Pacheco, who is known to PBS audiences through his appearance in the Yanni Voices special, was discovered by producer Ric Wake (Celine Dion, Mariah Carey, Whitney Houston) and was a featured performer with pianist/composer Yanni on a tour of the U.S., Canada and Mexico. He has been featured on several national television broadcasts, including two PBS specials and the ABC/Disney Parks Christmas Parade.
Pacheco has also performed for His Royal Highness Prince Charles at the British Embassy in Washington, D.C., sung "O Holy Night" on Chicago's Magnificent Mile Lights Festival, in Philadelphia's Thanksgiving Day Parade and the ABC/Disney Parks Christmas Parade with Katherine Jenkins; he joined Jenkins for a U.K. tour with the London Symphony Orchestra as a fully integrated special guest artist — all in the past year. In addition, Pacheco performed for the 100th anniversary of the Cherry Blossom Festival in Washington, D.C., on the south lawn of the White House and at the Washington Monument.
Though known best for his singing, Pacheco is also an avid composer. He has completed his debut album, writing and collaborating with multi-platinum composer/producer Leo-Z (Andrea Bocelli, Josh Groban). The album was largely completed in London at the legendary Air Lyndhurst Studios with London's Philharmonia Orchestra and will be released in September of 2012 on Disney Pearl.
Performances in this program include:

"Avatar"
"Don't Cry"
"Tears From Heaven"
"Now We Are Free"
"Braveheart" medley
"Danny Boy"
"Caruso"
"Titanic" medley
"Oyela"
"Nessun Dorma"
"Hallelujah"
"Western Tale"
"Equinox"
"Perdona"
###
About WPBT2
South Florida's premier public broadcaster, WPBT2 is a community-licensed, not-for-profit media enterprise serving communities from the Treasure Coast to the Florida Keys. WPBT2 provides high quality content from PBS, independent acquisitions and its own original productions. WPBT2's digital media platform, offers: 2HD, a 24-hour high definition channel; Digital 2.2, a mix of Science & Nature Channel, The Florida Channel and Create; Digital 2.3, V-me, a 24-hour national Spanish-language network; and http://www.wpbt2.org, the WPBT2 website including, Impromp2 (a community blog), the WPBT2 Video Player and uVu, a video sharing website