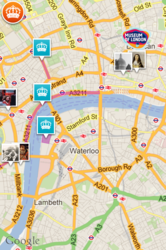 Incredible archive footage from the app allows users to connect what they've seen in the past on their TVs at home with London's present day geography.
London, UK (PRWEB) August 13, 2012
The Museum of London Royal Timetrip app contains a specially edited and location-specific film collection, narrated by Helen Baxendale (Friends, Cold Feet), which covers a century of royal London life, featuring amongst other iconic events, four royal weddings, two coronations and a funeral.
The app, launched in time for the Queen's Diamond Jubilee and the London Olympics, allows iPhone and iPad users to immerse themselves in iconic royal events from London's past and explore the enduring relationship between the British monarchy and the people of London. It is available from the App Store for £1.49.
Incredible archive footage from the app allows users to connect what they've seen in the past on their TVs at home with London's present day geography. Highlights sourced from a variety of archives such as the BBC, include:

Princess Diana's wedding debut in front of billions worldwide and the marriage of her son Prince William to Kate Middleton in 2011;
Millions crowding the streets of London for the Coronations of the Queen and her father King George VI;
Prince Philip's vows to Princess Elizabeth at their Westminster Abbey wedding in 1947;
Churchill and the royal family celebrating VE day alongside thousands of ordinary Londoners;
Her Majesty the Queen's first public appearance as a baby on the balcony of Buckingham Palace;
After the Oscar-winning film, 'The King's Speech', watch the real King's last speech at the Festival of Britain in 1951.
In addition users can explore fascinating images and objects from the Museum of London's vast collections and by interacting with pop up factoids in the app's videos and stills galleries, they can delve deeper into the capital's royal history.
The app also offers two family-friendly games. The unique wedding photo feature enables users to step into the shoes of Britain's most famous Princes and Princesses on their wedding day. The user can then share their entertaining souvenir snaps with their friends. A family tree game challenges the user to place five centuries' of British Kings and Queens in the right order.
UNIQUE TOURISM APPEAL DURING LONDON 2012
Visitors lucky enough to be heading to London this month are likely to see everything that the British monarchy's pomp and pageantry has become world famous for, the streets of the Diamond Jubilee city transformed for the 30th Olympiad, the Royal Family out in force and of course Her Majesty the Queen having fun as a Bond Girl, celebrating this unique year in British history.
The Museum of London Royal Timetrip, will immerse users in a century of royal pomp and circumstance, proving the British monarchy has always been one for the crowds. And amazingly, not just for the huge occasions of state like coronations or jubilees. Funerals, the end of war, even the return from an overseas trip, were in times past the excuse for a day off work, a massive parade, cheering, flag-waving and general pageantry, which nowadays only rolls out once or twice a decade.
Some might argue that of course previous generations would turn out in their thousands to watch a bit of pomp since they didn't have televisions or iPads to distract them, but there seems to be some particularly deep, personal and intimate connection between the people of Britain and their monarch, which defies fashion or the advance of technology.
BRINGING THE PAST TO LIFE
Explore Buckingham Palace, Westminster Abbey, St Paul's Cathedral and other key royal sites through an interactive map highlighting London's iconic royal landmarks which drives users to galleries of stills and video content. Enjoy 40 minutes of high quality specially edited clips organised by date, with optional pop-up factoids to explain more.
Dig deeper for more info on fascinating objects and images from the Museum of London's vast collections, which can be pinched and expanded for deeper visual immersion. Links on each image take the user directly to the Museum's online collections site. A family tree game tests knowledge of the British royal family with portrait tiles to drag and drop in the correct order and facts for every correctly placed monarch. And the unique photo feature allows users to place themselves into iconic royal moments.
Museum of London Royal Timetrip, the interactive way to explore the city's royal past, is now available worldwide in the iTunes App Store at: http://itunes.apple.com/app/museum-london-royal-timetrip/id529487534
For more information or media inquiries, contact Mark Johnson of appshout! on behalf of Hydrogen Films at +1 408 757 0156 or press(at)appshout(dot)com.
Notes to Editors
1. For more information or images, please contact Sue Horth, Hydrogen Films, using the enclosed contact details.
2. Visit http://www.royaltimetrip.com for sample videos and a link to download.
3. Museum of London, Museum of London Docklands and Museum of London Archaeology seek to inspire a passion for London. The Museums are open daily 10am – 6pm and are free to all.
4. Hydrogen Films are specialists in historical storytelling in film and digital media. We are female producers and digital entrepreneurs Lucy Bassnett-McGuire and Susan Horth, both passionate about history, learning, travel and making the past come to life in the 21st century.
5. Explore the Museum of London with Collections online - home to just under 25,000 objects with more being added.
6. Follow the Museum of London on Twitter, http://twitter.com/museumoflondon and Facebook, http://www.facebook.com/museumoflondon.