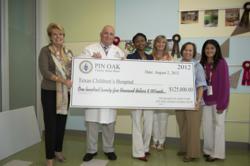 Pin Oak Charity Horse Show has a simple mission - to help children." Lynn Walsh, President of Pin Oak Charity Horse Show
Houston, TX (PRWEB) August 10, 2012
"Pin Oak Charity Horse Show has a simple mission to help children," remarked Lynn Walsh, President of Pin Oak Charity Horse Show as she presented Dr. Charles T. Hankins, Chief Medical Officer of Texas Children's Hospital West Campus with a check for $100,000. With this donation, Pin Oak meets 50% of its $400,000 commitment to this new Texas Children's Hospital and its second major gift. Pin Oak's first commitment to the new West Campus facility was for $300,000 and helped the hospital break ground for this state-of-the-art facility in west Houston. That commitment was fulfilled in 2011 and the new $400,000 commitment was made. Pin Oak's mission is alive and well and the resounding feeling in the room was the sincere hope to do more in 2013.
Additional funds were presented to Mikki Donnelly, representing Houston's Ronald McDonald House, to support the Family Rooms inside of Texas Children's Hospital in the amount of $15,000, and $10,000 to Gayle Faust, representing Candlelighters Childhood Cancer Family Alliance, to support their work with Texas Children's Cancer Center families.
Dr. Hankins acknowledged, "Without the Pin Oak Charity Horse Show, Texas Children's Hospital may not exist since it provided the seed money in 1947 to build Texas Children's which opened its doors to sick children in 1954." The three charities of Pin Oak work in unison to bring healing to sick children and provide the multi-faceted, family-centered care needed during such a difficult time.
Pin Oak Charity Horse Show is one of the oldest and most prestigious horse shows in North America. For two weeks each March, a dazzling array of breeds and equestrian athletes gather to compete at the Great Southwest Equestrian Center in numbers exceeding 1500 horses and 1200 riders from across the country and Mexico. Planning for the 68th annual Pin Oak Charity Horse Show is underway and will once again feature Hunters and Jumpers, American Saddlebreds, Andalusians and Lusitanos, Welsh Ponies, and more. Opportunities to support the show and benefit the three charities of Pin Oak are available. You man phone 713-621-6290,email info(at)pinoak(dot)org, visit http://www.pinoak.org, follow Pin Oak on Facebook and Twitter @pinoakhouston.