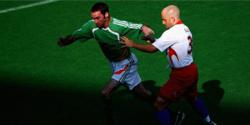 It is very sad for those whose injuries have meant that they can no longer join the team in London, but I would like to congratulate Crystal and Matthew on their selection
(PRWEB) August 09, 2012
Cyclist Crystal Lane and footballer Matthew Ellis have been added to the ParalympicsGB team for London 2012.
Lane has joined the cycling team after GB received a bi-partitite slot by the International Paralympic Committee (IPC).
She made her international debut at the 2011 Para-Cycling Road World Championships and won a bronze medal in the road race.
British Cycling's Paralympic performance manager Gareth Sheppard said: "It was very unexpected news. We had applied for the place in March, and initially been told that we hadn't been awarded one.
"Crystal had only narrowly missed out on initial selection, so it is fantastic to be able to give her the opportunity to compete in London. It really strengthens our team."
Ellis, who was part of the GB team in Beijing four years ago, is a replacement for the injured Josh Beacham in the seven-a-side team for players with cerebral palsy.
However, Andy Kaar, who was set to compete in the T20 1500m, has also been forced to withdraw from the athletics squad because of injury.
Chef de Mission for ParalympicsGB, Craig Hunter, said today: "It is very sad for those whose injuries have meant that they can no longer join the team in London, but I would like to congratulate Crystal and Matthew on their selection.
"In particular, I'm delighted that Crystal has joined the team. She has worked very hard and I am pleased that we are now in a position to welcome her to ParalympicsGB."

For all your latest news ahead of the 2012 Paralympics, follow @C4Paralympics on Twitter and like the C4Paralympics Facebook page