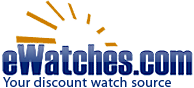 A really great watch is functional, stylish and a confidence booster for a kid. It serves a purpose and adds a cool factor at the same time.
Hollywood, Fla. (PRWEB) August 09, 2012
eWatches, a leading internet retailer of discount designer watches, announced this week the launch of their deeply discounted Back-to-School collection of watches.
The company is set to offer its authentic designer watches at prices significantly below manufacturer suggested retail price (MSRP) for the Back-to-School promotion, even surpassing the discounts for which eWatches is historically known within the retailing arena since its inception in 2003. eWatches is promoting discount watches up to 91% off MSRP for their Back-to-School event, and expects for sales to be strong, given the current economic environment and the trend toward extreme savings in comparison shopping.
"Our business model and exemplary relationships with our vendors are such that we get amazing deals on the watches we buy—so much so that we can turn around and sell them for significantly less than our competitors," said Russell Ackner, VP of Marketing, The SWI Group. "Our phenomenal customer service and the fact that we are able to offer free shipping on watches domestically is the icing on the cake. When you think about it, why would you shop anywhere else for discount designer watches?" he continued.
An award-winning discount watch website, eWatches carries an extensive selection of watch brands from such reputable names as the overwhelmingly popular Invicta watch line, along with watches by Swiss Legend, Glam Rock, Lucien Piccard and more, with thousands of styles available to its customers. The Back-to-School collection will contain a range of brands and styles that includes dress watches, sport watches, dive watches, fashion watches and other styles at varying price points.
"The purchase of a dressy, trendy or sporty watch for the returning or first-time college student is the perfect investment," said Ackner. "A really great watch is functional, stylish and a confidence booster for a kid. It serves a purpose and adds a cool factor at the same time. If I were headed back to school right now, my pick for the year would be a Swiss Legend Neptune. "
eWatches will run its Back-to-School savings event through August 24th, after which they will launch their annual fall preview, highlighting the latest trends in men's watches and women's watches from such popular brands as Seiko, Bulova, Swiss Army, Skagen and more.
About eWatches.
eWatches.com is an award-winning internet retailer of brand-name watches serving tens of thousands of satisfied customers since the company's inception in 2003. In both 2007 and 2008, Inc. Magazine selected eWatches.com as one of 'America's 500 Fastest Growing Companies' in its annual Inc. 500 list. eWatches provides a superior shopping experience to its customers with:

Free Shipping on all domestic orders
100% Satisfaction Guarantee
Low Price Guarantee
30 Day Money Back Guarantee
To get the 411 follow eWatches on Facebook and Twitter at 'ewatchescom'.