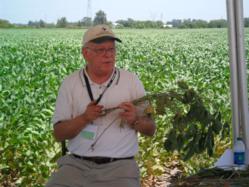 Growers lose 70% of a seed's yield potential during planting
Houston, Texas (PRWEB) August 10, 2012
More than 200 Illinois Soybean Association members attended Farm Journal's Soybean College where StollerUSA led four breakout sessions on controlling plant stress by maximizing genetic expression. President and CEO, Jerry Stoller led the discussion and answered technical questions from interested growers across the Illini State.
High temperatures did not stop attendees from listening intently and participating in open discussion during the four sessions. Stoller explained the importance of understanding plant health and controlling excess ethylene to manage environmental stress. Interest grew even greater as sales representatives pointed out Stoller treated test plots directly behind the exhibit tent. The four plots looked healthier than nearby soybean fields as the drought took its toll on central Illinois.
Treated with Bio-Forge and other popular Stoller products, these test plots demonstrated the effectiveness of Stoller' proprietary plant performance technology. Reflective of Stoller's research focus, some of the plots were also treated with new, experimental formulations. These advanced products are designed by Stoller to increase photosynthesis, transfer more sugar from the mother plant to the pods in the seed to increase size, and increase nitrogen use efficiency and utilization.
This session of Farm Journal's Soybean College was sponsored by the Illinois Soybean Association and welcomed innovative growers anxious to learn beyond traditional farming practices. StollerUSA, the only company invited to speak at the exclusive one day show, provided answers to stress issues on every farmer's mind. Many answers to controlling stress came from Bio-Forge® and Bio-Forge® ST as growers look to protect expensive seed costs and minimize stress on plants. Those using Stoller products this year noted how crops looked healthier early and continued even as stress set in on neighboring fields where Bio-Forge and Bio-Forge ST were not applied.
"Growers lose 70% of a seed's yield potential during planting," explains President & CEO, Jerry Stoller. "By treating seed with Bio-Forge the seed is protected from the very beginning allowing plants to reach full genetic potential and maximize yields."
Another common conversation included wheat seed treatment with Bio-Forge ST. As growers across the Midwest prepare for winter wheat planting many are looking to protect seed early on to avoid harsh climate conditions this winter. Stoller's team recommends Bio-Forge ST at 2 oz/cwt of seed to promote early germination and protect against environmental stress.
Several independent and university research studies have proven the benefits of Bio-Forge ST as a wheat seed treatment – producing an average 11 bu/acre increase during the extreme growing conditions experienced in 2012. Growers can review more information on treating winter wheat seed and view the research by visiting http://www.stollerusa.com/wheatseedtreat.
StollerUSA is dedicated to helping producers enhance yields by maximizing genetic expression. The result is enhanced marketable yield, improved return-on-investment and improved tolerance to disease and other stress. Only Stoller products contain Stoller's proprietary technology that is proven to ensure optimum plant growth by maintaining appropriate hormone balance in combination with supporting nutrients. Validated by Universities nationwide, Stoller's unique formulations result in healthier, more productive crops that are better able to withstand stress and achieve their full genetic potential.
About StollerUSA
Celebrating 40 years in agribusiness, StollerUSA markets a full line of products to help farmers increase crop yield and quality. StollerUSA, headquartered in Houston, is actively engaged in basic and practical research to enhance crop productivity in more than 50 countries.