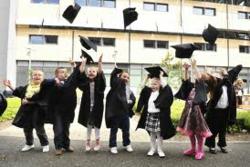 Britain will need to rely on the younger generation to build, to innovate and to improve Britain.
(PRWEB UK) 13 August 2012
According to The Guardian the rise in tuition fees has led to 15,000 fewer applications to higher education this year and it is predicted that this fall is set to continue. The Higher Education Policy Institute suggests that the potential trend of students not applying to go on to higher education will force universities to consider the rise in fees.
In the current market, even with an undergraduate degree, it is increasingly harder for graduates to obtain employment; employees do not only want students with a good degree, instead favour candidates with work experience and extra-curricular activities. The new generation of university students will feel more pressure to work, as living costs rise, as well as the pressure to undertake more activities and work experience whilst at university, in a bid to increases the chances of securing a job after university. With this added pressure as well as the pressure of knowing they will have to pay a pay a large debt at the end of university, will they have time and energy to make the most of their £9000 a year education and provide all the additional skills that are required of them when they do graduate? What does this mean for those who have chosen not to go to university, who won't be able to bring a degree to the table when countless graduates are competing for the same jobs?
Thousands of people with the potential to succeed at university are being put off by the financial costs and there are fears that those from lower income backgrounds will not get the opportunity to go to university; as universities will now not be fined if they go above their quota of high grade students. The government is doing a disservice to its younger generation; Britain is asking our young people to take on a substantial debt for an education that no longer guarantees them a job. Britain will need to rely on the younger generation to build, to innovate and to improve Britain. If we take away the opportunity for higher education from our future business people, MP's and teachers due to financial concerns, aren't we are playing with the future of Britain?
The team at The Giving Card, think that Britain's younger generation should be nurtured and their talent cultivated, and financial concerns should not stop young people from getting the education they deserve.
Let The Giving Card know your thoughts on Twitter or Facebook.