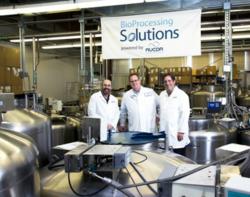 Piscataway, N.J. (PRWEB) August 15, 2012
To meet the rapidly growing demand for its services, RUCDR Infinite Biologics — the world's largest university-based biorepository — has launched a strategic alliance with BioStorage Technologies, a global corporation. RUCDR, formed in 1998 as the Rutgers University Cell and DNA Repository, offers a complete and integrated selection of biological sample processing, analysis, and storage services.
Jay A. Tischfield, founder and Chief Executive Officer of RUCDR and Duncan and Nancy Macmillan Professor of Genetics, said this is the repository's first alliance with a commercial entity.
"Rutgers is intent on building meaningful public-private partnerships, and this is an exemplary alliance," said Tischfield, who directs the Human Genetics Institute of New Jersey. "I'm thrilled that we're taking RUCDR to the next level, as it will allow us to more fully engage the pharmaceutical industry and companies in the life sciences. And we'll be able to do even more to help our faculty colleagues compete for research funding from federal, state, and private sources."
Kenneth J. Breslauer, Vice President for Health Sciences and Linus Pauling Professor of Chemistry and Chemical Biology, expressed support for the strategic alliance. "RUCDR plays a major role, nationally and globally, in an extremely valuable aspect of medical research and basic science, and this alliance will permit significant enhancement and expansion of its operations." Breslauer noted that this new alliance is a wonderful example of the kind of public/private partnerships for which the incoming President of Rutgers, Robert L. Barchi, has expressed enthusiasm. Barchi is a neuroscientist, clinical neurologist, and educator. He was president of Thomas Jefferson University from 2004 until last month and provost at the University of Pennsylvania from 1999 to 2004. Barchi's term at Rutgers begins Sept. 1.
The strategic alliance between RUCDR and BioStorage Technologies (BST) will encompass all biorepository functions, including sample management consulting, study logistics, collection-kit manufacturing, sample storage, tissue collection, and clinical sample bio-processing, such as blood fractionation, nucleic-acid extraction, and cell-line establishment. The agreement also covers analytical services, including gene expression, sequencing, and genotyping. RUCDR currently stores more than eight million biosamples from researchers around the world, according to Andrew Brooks, Chief Operating Officer of RUCDR and Associate Professor of Genetics.
"Our activity has doubled every three years and we're experiencing continuous growth in private-sector demand for our services," Brooks said. "These are the compelling reasons behind the strategic alliance with BST, which not only will increase our capacity, but will permit us to become more efficient and expand our suite of services."
RUCDR is located in three building on Rutgers' Busch Campus in Piscataway, N.J. The operation will gain an additional 10,000 square feet this fall when a $9.6 million renovation project is completed at the Nelson Biology Laboratories on Allison Road.
RUCDR has approximately 120 full-time employees. It has added more than 30 staff since 2010 and further hiring is planned. Employees of BST work in the jointly managed operation at Rutgers, which will help BST service its customers and expand its business on the East Coast.
The two organizations are complementary, Brooks said. "BST is the global leader in comprehensive sample management solutions and RUCDR is the global leader in sample bioprocessing. Our operation is not just the world's largest university-based biorepository, it provides comprehensive project and sample management, with the widest variety of integrated services."
Greg Swanberg, CEO of BioStorage Technologies, said, "The scientific and technical bioprocessing solutions expertise of RUCDR, combined with BioStorage Technologies leadership in sample management best practices, allow us to deliver a complete and integrated lifecycle solutions approach and enable us to support projects of any size or complexity anywhere in the world."
To support the new business, Swanberg said, BST will invest in the shared operations through equipment, processes, and technology, and assist with commercializing components of RUCDR's existing infrastructure.
Swanberg and Kenneth Breslauer, Rutgers Vice President for Health Science Partnerships and
Linus Pauling Professor of Chemistry and Chemical Biology, signed the agreement forming the strategic alliance on June 28, 2012.
"RUCDR was created by scientists for scientists," Brooks said. "Thus, we understand technology and its specific applications, and this allows us to provide services that are optimized for researchers' goals."
RUCDR provides DNA, RNA, and cell lines with clinical data to hundreds of research laboratories globally for studies on mental health and developmental disorders, drug and alcohol abuse, diabetes, and digestive, liver, and kidney diseases. RUCDR received a $10 million federal grant last year to provide DNA extraction, basic genetic testing, and repository services for more than 46,000 saliva samples, in support of national research efforts to determine the genetic and environmental factors that lead to alcoholism. Rutgers' Human Genetics Institute of New Jersey recently received a $2.2 million grant for research into the genetics of autism spectrum disorder, led by Linda Brzustowicz, Professor and Chair of Rutgers Department of Genetics. That study will be facilitated by RUCDR.
"The work done by RUCDR staff – processing, managing, analyzing, and storing samples from human subjects around the world – generates insights that hold the key to realizing the goals of personalized medicine and translational research," Tischfield said. "It's hard to overestimate the importance of such science, and we're committed to finding new ways to do it better and more efficiently."
For more on the alliance, visit http://www.biostorage.com/bioprocessing/.
About RUCDR Infinite Biologics: The world's largest university-based cell and DNA repository, RUCDR Infinite Biologics plays a key role in research aimed at understanding the genetic causes of common, complex diseases. Its activities enable gene discovery leading to diagnoses, treatments and, eventually, cures for these diseases. RUCDR is a comprehensive, integrated repository that assists researchers throughout the world by providing the highest quality biomaterials, technical consultation, and logistical support. Its services include sample bioprocessing (i.e., blood fractionation, nucleic-acid extraction, cell-line creation, etc.) and analytical services such as gene expression, sequencing, and genotyping. A $9.6 million renovation of existing space at Rutgers is underway that will increase its automated storage capacity to approximately 1.8 million tubes. Established in 1998, along with a Department of Genetics at Rutgers, RUCDR is located on the university's Busch Campus in Piscataway, N.J. Learn more at http://www.rucdr.org.
About BioStorage Technologies, Inc.: BioStorage Technologies is the premier, global provider of comprehensive sample management solutions for the bioscience industry. Offering flexible onsite, offsite and hybrid sample outsourcing models for the management of research assets, BioStorage Technologies manages the complete life-cycle of samples. With an expert team of global sample consultants, industry-leading temperature-controlled storage facilities, and state-of-the-art virtual sample management solutions, the company supports its customers in maximizing opportunities, minimizing risk, and reducing costs. BioStorage Technologies, Inc. is privately held and headquartered in Indianapolis with an additional full-service site near Frankfurt, Germany, and a wholly-owned foreign enterprise in Singapore. For more information, visit http://www.biostorage.com or call +1 (866) 697-2675 or +49-6155-898-1011.