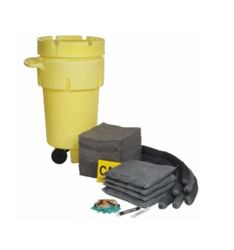 We needed oil-only spill kits for our factory, and SpillKitCentral.com had the best prices!
Lake Oswego, OR (PRWEB) August 12, 2012
Spill Kits are necessary and required for any OSHA-compliant emergency spill response plan. Wherever a system for the containment of liquids is needed, including: acids, bases, lubricants, chemicals, solvents, oils, or other potential contaminants in the workplace or in transport, having the correct spill control kit is paramount.
Hazardous spills can be a very dangerous situation. It is very important that any chemical spill in the workplace receives immediate attention. Therefore, all spill kits can be customized as they offer businesses specific sorbents (absorbent materials used to control spills) that range from universal to specific control measures (i.e, hazmat, chemical, oil, etc.) for the task.
Contact Spill Kit Central at 866-777-1360 or view their wide selection of spill containment kits on the web at http://spillkitcentral.com.