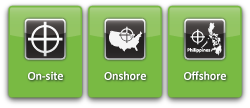 We are thrilled for the opportunity to expand Magenic Atlanta's custom software development capacity for our enterprise customers
ATLANTA, GA (PRWEB) August 14, 2012
Magenic — a custom software development consulting firm that specializes in creating enterprise-level custom Microsoft applications for Fortune 2000 companies — announced that it has merged Manila-based Rivereo into the Magenic company.
"We are thrilled for the opportunity to expand Magenic Atlanta's custom software development capacity for our enterprise customers," said Magenic Atlanta general manager John Himebook. "An internal global addition to Magenic will help to both expand our company's reach and provide a cost advantage to Magenic's customer base."
Magenic Manila/Rivereo provides innovative offshore development and business solutions for enterprises and independent software companies through a dedicated development team (DDT) business model. By providing Magenic's clients with the benefit of their own offshore development center without the overhead required to maintain such a facility, the DDT gives clients in the Atlanta metro area and across all of Magenic's markets control of their project and cost savings.
"As part of Magenic, Magenic Manila/Rivereo will be able to offer a wider range of custom application development solutions, drawing on the expertise of Magenic's team of US-based architects and consultants." – Gary Cooper, Founder of Rivereo and President of Magenic Manila/Rivereo.
Magenic is a privately held custom software development company that was founded in 1995 and is based in Minneapolis, Minn. A member of the official Microsoft Partner Network, Magenic staffs consultants worldwide. Additional Magenic offices are located in Atlanta, Ga.; Ann Arbor, Mich.; Chicago, Ill.; San Francisco, Calif.; and Boston, Mass.
Magenic is a recognized authority in building software applications for Fortune 2000 companies using the Microsoft software development platform. Magenic CTO Rockford Lhotka is the creator of the popular CSLA .NET software development framework and is considered a thought leader in software architecture, design, and development.
More information about the company and its services is available online at http://magenic.com or via telephone at 877-453-1501.
Rivereo's management team has decades of experience in the software industry. In the highly competitive world of outsourcing, Rivereo is focused on improving the quality of the deliverables and the approach taken with clients. Being in the Philippines provides a great location with a high degree of cultural compatibility.