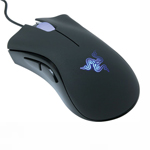 Atlanta, GA (PRWEB) August 16, 2012
Every gamer knows that the controller makes a big impact on the overall gaming experience. That's why every time a new console is released the controller is such a big deal. Alternatively, PC gamers have a lot more flexibility when it comes to what kind of hardware is going to control the game. 10rate editors have decided to compile a top 10 list based on the mouse. It is only part of what acts as a controller in PC gaming, but an important one. 10rate based their choices on the Best Gaming Mice according to the following criteria:
1. Sleekness
2. Comfortable to use for multiple hours
3. Holds well in your hand
4. Customizable via software and or hardware
5. Simple and elegant in design
6. How it performs on normal desktop use outside of games
7. Price for value
8. Technology on mouse
9. Who is the mouse for?
10. DPI and tracking
According to the editors, two of the most notable gaming mice out there are the SteelSeries Xai and the Razer Deathadder. Editors highlighted some of the key features on the SteelSeries mouse, "The SteelSeries XAI is a mouse for FPS gamers and anything in between. It is smooth and simple in design and performance. The backside features an LCD display that you can customize your mouse to use different profiles on the fly. Built in drivers allow you to plug the mouse in via USB and start playing instantly."
Razer's Deathadder landed a close second. Editors said, "One of the most popular gaming mice is the Deathadder by Razer, a top seller for years. There is a reason for that too. The mouse is sleek in design and will fit your hand perfectly with its ergonomic right-handed design, allowing for hours of play without it becoming uncomfortable. Paired with a 3500DPI infrared sensor, you have 4x the precision of a normal mouse, giving you a huge edge on competition."
10rate.com conducts reviews in various product and services categories and publishes "Expert Top 10 Lists for Everything in your life." The company's web site strives to "Make it Easy" to select from the hundreds of choices there are in the product and service market place. All products and services are thoroughly researched by the companies expert editors prior to receiving a rating on a 1-10 scale. In addition to product reviews the companies editors write guidelines, buying guides and articles on various topics surrounding each product or service category covered to help educate the consumer.