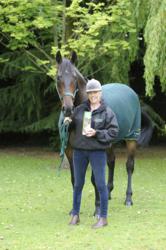 London (PRWEB UK) 10 August 2012
Coopers Fly Repellent Plus stands alone as a market leader in easing the discomfort of horses and ponies during the summer months. Not only is Coopers Fly Repellent Plus easy to use and highly effective, it is the ONLY fly repellent that is specifically licensed for horses to UK standards to repel and kill flies and control infestations of the biting louse, Damalinia equi.
Due to it's high quality, the product is endorsed by a number of prominent figures in equestrianism. Most notably, Katie Jerram, horse showing producer to Her Majesty the Queen, cares for and successfully competes nine of Her Majesty the Queen's horses. In addition to these top show horses, Coopers Fly Repellent is also used by The King's Troop and Royal Household Cavalry.
Katie Jerram is a leading show producer and international judge that uses Coopers Fly Repellent Plus, she agreed to be featured in a photoshoot organised by Graphic Evidence in order to demonstrate the correct use and effectiveness of the product. The resulting images clearly depict the top quality product as Katie applies the Coopers Fly Repellent Plus to her successful horse, Countryman. The series of images were accompanied by a one-off interview with Katie, who gave Graphic Evidence – graphic designers and public relations company - an insight into what it takes to become such a high calibre figure in the world of equestrianism. Katie's interview created a number of interview articles that are set to be distributed to the equestrian media.
For more information on Graphic Evidence's PR and design services, including: product launches, social and digital marketing, media planning and buying , sponsorship and profile boosts; please visit http://www.graphic-evidence.co.uk