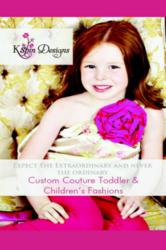 showing children early on that "Pale is Pretty" helps instill a confidence that they will carry with them throughout their lives
Beverly Hills, CA (PRWEB) August 10, 2012
KSpin Designs is a fast growing Children's Clothing Boutique specializing in sophisticated couture fashions.
What makes the company unique is that it's about far more than simply producing high quality, well designed clothing. KSpin Designs is truly a labor of love. As a former fashion model, the founder Kerry Lynn Spindler was diagnosed with Melanoma at the age of 27. That experience has turned her passionate in her efforts to teach others, especially children, about the significant health benefits of promoting sun safety. Kerry Lynn has done this through her non-profit company PrettyPale.org through "Sunless Beauty" campaign's targeting women, men and children of all ages and nationalities.
Spindler realizes that "showing children early on that "Pale is Pretty" helps instill a confidence that they will carry with them throughout their lives". It's that very confidence that may just lead them to make smarter, crucial decisions regarding tanning in their vital formative years. Simply put: such decisions save lives.
Kspin Designs and PrettyPale.org sell Sun Safety Bracelets in children's and adult sizes that have walked many red carpet events ranging from theater, music, film awards, celebrity birthdays and more. Simply apply sunscreen to the bracelet and when the sunscreen loses its effectiveness, the bracelets turn a dark blue
Kspin Designs online catalogue showcases all of their unique fashions for girls and boys ages 18 months to size 10. They also sell their reusable sun safety bracelets for $5.