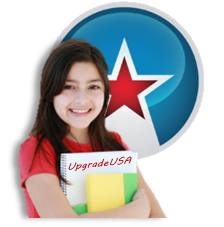 Everyone can benefit from better credit.
Austin, TX (PRWEB) August 10, 2012
Students and parents looking to find great deals on laptop payment plans for school still have plenty of time thanks to UpgradeUSA, an online business that is focused on providing consumers the opportunity to afford the latest technology as they build credit every month.
"Many students and parents face tighter budgets for school, and can't always afford to pay full price for quality laptops they need for their coursework," said Jon Weisblatt, Founder & CEO of UpgradeUSA. "Our online-only payment plans are designed to be flexible and fit almost any student budget, and the quality of the products we offer is outstanding. And everyone can benefit from having better credit."
In addition to receiving a quality laptop of their choice, customers who participate in UpgradeUSA's program receive the advantage of having their payment history reported to all three credit bureaus every month. In this way, UpgradeUSA can help customers establish a history of good credit. Over time, people find that having better credit can lead to more manageable interest rates when financing high-ticket items such as cars or homes.
Students who attend college, from the largest universities to smaller community colleges, can benefit from laptop payment plans in a flexible and affordable way that doesn't add to crushing student loan debt. Parents with kids in high schools or middle schools in a large number of school districts can also make use of UpgradeUSA's laptop leasing service.
UpgradeUSA's unique laptop payment plans also offer students:

The chance to afford a new or refurbished laptop without accumulating interest-oriented debt
A variety of choices based on their monthly budget
Flexibility, should budgets get tight in a given month
Convenient online shopping
The opportunity to build credit with each payment.
Approved consumers can select from new and refurbished laptop computers from brands they know and trust such as Dell, Apple, HP and others, and all computers carry a warranty.
Everyone Can Benefit From Better Credit
UpgradeUSA works with a wide variety of consumers, including students, teachers, entrepreneurs, and others looking to manage their spending on a budget.
UpgradeUSA's laptop payment plans start as low as $55/month, and unlike other companies, prices at UpgradeUSA do not change based on a customer's credit score. This makes for an affordable quality alternative to traditional rent-to-own, financing, and layaway.
The company's leasing program is available to people who live in California, Florida, New York, and Texas.
How People Can Qualify
To participate in the program, interested people should visit UpgradeUSA.com where they can click on the "Apply Now" button and complete a short, 2-minute application on a secure site. They should expect an email response within one business day. UpgradeUSA ships after the first customer payment.
After approved customers make their first payment and schedule subsequent monthly payments, UpgradeUSA quickly ships the computer that the customer ordered. Customers can make and schedule all payments securely online via debit or credit cards.
About UpgradeUSA
UpgradeUSA helps solve a leading question for a growing number of U.S. consumers: How do I build credit? The company addresses this through the online leasing of new and refurbished mobile computers, with each monthly customer payment reported to all three major U.S. credit bureaus. Customers can choose to end their lease and return their computer at any time after a few months, or can purchase it early at any time during the lease process, with no penalty. Our program is available in a growing number of states across the U.S. UpgradeUSA is privately held and is headquartered in Austin, Texas.
# # #