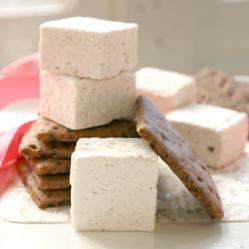 Give us your suggestions and our chefs will choose this Summer's next "it" marshmallow!
New York, NY (PRWEB) August 10, 2012
New York dessert artisans Three Tarts announce the start of their annual Marshmallow Contest which lets fans submit ideas for a new flavor with the winning flavor being named on August 30, better known as National Toasted Marshmallow Day.
"Give us your suggestions and our chefs will choose this Summer's next "it" marshmallow!" said Three Tarts owner Marla D'Urso.
Submissions for the new flavor are now being accepted from August 10-August 20. Three Tarts asks for the flavor suggestion to be emailed to info(at)threetarts(dot)com with "Marshmallow Contest" in the subject line. The winner will be announced on August 30, National Toasted Marshmallow Day.
Winner receives a marshmallow toasting party for 4 (including their winning flavor) at Three Tarts Chelsea location, a tour of Three Tarts Chelsea OR Plaza location, and lemonade or iced tea for all. (Contest ends August 20 and party must be redeemed by September 30)
Three Tarts, whose famous house-made marshmallows have been featured on ABC's Good Morning America, The Chew and NBC's The TODAY Show, recently concluded their National Ice Cream Sandwich Day Contest by choosing a new flavor from several hundred entries.
The winning marshmallow flavor will be available at both Three Tarts locations for a limited time.
"Last year our winning flavor was shiso-grapefruit, which combined the Japanese citrus fruit shiso with grapefruit, and it was gone in a matter of days," said Marla D'Urso. "We have the most creative fans!"
Three Tarts Bakery & Boutique flagship store is located in the Chelsea section of New York City at 164 Ninth Avenue and can be reached at (212) 462-4392. Their second location, Three Tarts at The Plaza Food Hall, is located at New York's The Plaza Hotel. Three Tarts is also on Facebook, and @ThreeTartsNYC on Twitter.