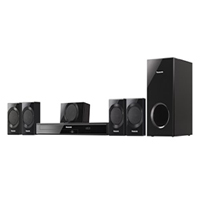 Atlanta, GA (PRWEB) August 20, 2012
As more and more families are picking up HDTVs, home theaters in a box are naturally going to be the next purchase. It's no wonder why—these systems conveniently create a surround sound environment and greatly enhance the experience TV, movies, and video games. And they are usually pretty easy to set up. 10rate based their choices on the Best Home Theaters in a Box according to the following criteria:
1. Crisp, pure sound quality
2. For DVD models, upscaling to near HD quality
3. Straightforward setup process
4. Flexibility in speaker arrangement
5. Wireless subwoofer
6. Audio Return Channel (ARC)
7. Bluetooth or USB port for playing music
8. Comprehensive system for media streaming
9. Easy-to-navigate interface
10. Attractive design
11. Value
Editors decided that two of the most notable home theaters in box out there are the Sony DAV-DZ170 and the Panasonic SC-XH170. Some of the key features of the Sony sytem were highlighted in the review, "A home-theater-in-a-box ranked highly with consumers, the Sony DAV-DZ170 comes with a special disc to aid the setup process, which is already fairly self-explanatory. The 5.1-channel speakers produce a rich, adjustable sound with 1000 watts, and with an HDMI cable, DVDs are upscaled to near 1080p quality. We were pleased to note that the BRAVIA Sync remote control handles all the connected devices in one."
Panasonic's home theater system ranked as a good alternative. Editors said, "Movie fans no longer have to worry about replacing all their DVDs with Blu-Rays; thanks to the Panasonic SC-XH170, their standard definition DVDs are up-converted to near high definition quality, 1080p. This 5.1-channel home entertainment system also allows you to play music from your iPod or iPhone simply by hooking it up to the USB port. A digital amplifier produces pure, faithful sound with no distortions or jitter."
10rate.com conducts reviews in various product and services categories and publishes "Expert Top 10 Lists for Everything in your life." The company's web site strives to "Make it Easy" to select from the hundreds of choices there are in the product and service market place. All products and services are thoroughly researched by the companies expert editors prior to receiving a rating on a 1-10 scale. In addition to product reviews the companies editors write guidelines, buying guides and articles on various topics surrounding each product or service category covered to help educate the consumer.