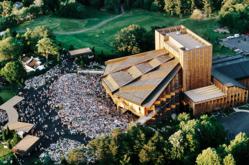 Vienna, Virginia (PRWEB) August 09, 2012
Dead Can Dance
Monday, August 27, 2012 at 8 pm
$45 in-house, $30 lawn
Australian world music duo Dead Can Dance makes its first appearance at Wolf Trap in an enticing performance that features contemporary technology, ethereal ambiance, and a wide range of musical styles. The forceful duo, comprised of guitarist Brendan Perry and vocalist Lisa Gerrard, came together in Australia in 1981. The pair combined their diverse backgrounds and common interest in Renaissance melodies to create a unique multicultural sound.
A year later, Perry and Gerrard moved to England and secured a record deal with 4AD Records. The duo's second album, Spleen and Ideal (1984), was highly praised by critics and earned them a solid European fan base. Dead Can Dance toured the U.S. in the '90s before temporarily disbanding to pursue solo careers. Their long-awaited reunion took place in 2004 propelled by European and North American tours, as well as the release of limited-edition recordings from these engagements.
Video: Dead Can Dance – Hymn For The Fallen (Live)
The Fresh Beat Band
Tuesday, August 28, 2012 at 3 pm
$40 in-house, $25 lawn
The cast of the popular children's TV show The Fresh Beat Band makes its Wolf Trap debut as part of their first live tour. The Fresh Beats are four best friends— Shout, Twist, Marina, and Kiki —who attend music school together and form a band. In each episode, the group poses a problem and eventually its solution through lively song and dance. The Fresh Beats teach kids valuable lessons on problem solving and the importance of true friendship, in a fun and accessible manner. The series premiered on Nick Jr. in 2009 and became an instant hit among preschoolers ages five and younger. The show won the 2011 Parents Choice Award, and the group recorded their first album, The Fresh Beat Band: Music From the Hit TV Show, in 2012.
Video: The Fresh Beat Band – Here We Go
Clarke/Duke 4 "BRING IT" Tour
with Stanley Clarke and George Duke
Boney James
Wednesday, August 29, 2012 at 8 pm
$42 in-house, $25 lawn
Clarke/Duke Project
Jazz musicians Stanley Clarke and George Duke return to the Wolf Trap stage after their last appearance in 2006. The duo joined forces in 1981 and topped the jazz charts with their first album, The Clarke/Duke Project, Vol. 1. The record combines an appealing blend of contemporary jazz, funk, R&B, rock, and pop, which sets the tone for their distinctive collaborative sound. Hit singles such as "Sweet Baby" and "I Just Want To Love You" helped them achieve a successful crossover to other musical genres Clarke and Duke have released two more albums, The Clarke/Duke Project, Vol. 2 (1983) and Vol. 3 (1990), and toured extensively in the U.S. They also collaborated on creating music for the 2002 comedic film Undercover Brother.
Video: Clarke/Duke Project – Sweet Baby
Boney James
Virtuoso saxophonist Boney James makes his Wolf Trap comeback after his dazzling performance at the 2004 Jazz & Blues Festival. James is recognized as the main exponent of the urban jazz genre, which fuses traditional jazz with soul, R&B, and pop influences. His innovative style and rollicking live performances set him aside from other jazz instrumentalists of our time. James's most recent album release, In Contact (2011), is a reflection on the relationships that defined his musical career and the devastating car accident that changed his life. He has released 13 albums and sold over three million records worldwide. In 2010 Billboard magazine selected him as its No. 3 Top Contemporary Jazz Artist of the Decade.
Video: Boney James – Sweet Thing
The King and I
Friday, August 31, 2012 at 8 pm
Saturday, September 1, 2012 at 2 pm and 8 pm
Sunday, September 2, 2012 at 2 pm and 8 pm
Tickets: $20-$80
The Filene Center stage becomes the home of a new rendition of the classic musical The King and I for three consecutive days. Wolf Trap is honored to feature several Northern Virginia based children in this production, who earned roles in the ensemble through auditions at Wolf Trap's Center for Education. The Tony Award-winning musical, based on Margaret Landon's novel Anna and the King of Siam, was the fifth collaboration between composer Richard Rodgers and librettist Oscar Hammerstein II. The King and I premiered to wide acclaim on Broadway in 1951, and has since been the subject of numerous international tours and revivals. Wolf Trap's production will be directed by Baayork Lee, working alongside Susan Kikuchi as the choreographer. It will also feature a full Broadway orchestra, conducted by Maestro Eugene Gwozdz.
###
Tickets can be purchased by calling 1 (877) WOLFTRAP; or online at http://www.wolftrap.org. For more information, call Wolf Trap at (703) 255-1868.
Wolf Trap is metro accessible! Our environmentally friendly Wolf Trap Express Bus travels from the West Falls Church metro stop every 20 minutes starting two hours prior to show time. For more information, please visit,
http://www.wolftrap.org/Plan_Your_Visit/Access_by_Metro.aspx