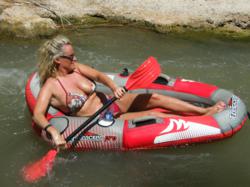 Tube Trackers give people the ability to recline, but still have the Tubing Experience.
Sedona, Arizona (PRWEB) August 10, 2012
Sedona Adventure Tours, renowned for their fun-filled and adventurous guided trips down the Verde River near Camp Verde and Cottonwood, Arizona, plans to help everyone enjoy every last moment of summer family fun, and to prove it, they've just added new Tube Trackers to the mix!
"The end of summer is near," says Richard Lynch, owner of Sedona Adventure Tours. "Take your family out one last time and enjoy the beauty of the Verde River while having quality family time together. And if you are a local, all of our tube rentals are half off on Sundays! "
Delivering unforgettable outdoor fun and family friendly adventure in the breathtaking scenery of Sedona and the Verde River Valley, Sedona Adventure Tours offers many exciting adventure options and combinations that include cruising down the Verde River in a Tube or in a "Ducky Kayak", an inflatable kayak that is comfortable, unbelievably stable, easy to paddle and just plain fun!
And now, the newly added Tube Trackers offer a glorious tubing experience: With a lounge-type seat and built in drink holder. Similar to a pool float, the Tube Tracker is long enough to kick back and stretch your legs out! Be the captain of your ship with a small paddle to navigate the beautiful waters of the Verde River.
"Tube Trackers give people the ability to recline, but still have the Tubing Experience," explains Lynch. "Tube Trackers are also equipped with a small paddle that fits inside. Tubers can pull it out to steer into or away from tiny rapids, or to steer to get a better look at nature or to take photos."
One of the area's best hidden secrets, there is no greater family fun than spending the day floating down the Verde River. Lucky local residents can enjoy half price Tube Trackers and Tube Rentals every Sunday this summer. Normally $28 each, on Sundays locals rent for just $14! Sedona Adventure Tours provides all of the necessary gear for memorable fun in the sun.
Another great deal to take advantage of before Labor Day is the Last Splash Of Summer Sale. Through Labor Day, children go half price on either Tubing Madness or Verde River Trips with a regular priced paying adult. Bring summer visitors too, but hurry… tubing ends soon!
The Verde River, Arizona's only wild and scenic river system, is perfect for family vacations, romantic weekends, girlfriend getaways, and spiritual journeys. Choose a perfect experience from the many options offered at http://www.sedonaadventuretours.com by the only company permitted to take tourists down the beautiful, scenic Verde River.
The Sedona Adventure Tours and Verde River Rafting Adventure Center and Reservation Office is located at 45 W. Hollamon in downtown Camp Verde. The Camp Verde office is the take off point for guided river trips and rental equipment also sells boating supplies. Call 877.673.3661 or 928-204-6440 for information and tour reservations.
About Sedona Adventure Tours: Sedona Adventure Tours offers exciting, and safe guided trips down the Verde River and is the only company permitted to offer this unique Verde River experience.