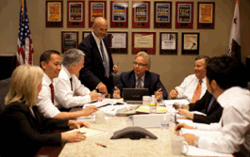 Our clients utilized hip replacement devices to help increase their mobility and live more fulfilled lives. They did not expect, nor should they have, to experience severe pain and undergo multiple revision surgeries
Newport Beach, CA (PRWEB) August 13, 2012
According to the United States Food and Drug Administration (FDA)(1), Stryker Orthopaedics has issued a voluntary recall of their Rejuvenate and ABG II modular-neck stems. Potential risks listed as being associated with the use of these products include corrosion and/or fretting around the modular-neck junction, which could result in unfortunate tissue reactions. Product defect lawyers throughout the country are already pursuing compensation on behalf of clients who claim they have suffered injuries as a result of using other products manufactured by Stryker.
Stryker Orthopaedics is one of the world's leading medical technology companies and is responsible for a substantial number of hip replacement and other joint replacement components. Over the last decade, several patients utilizing Stryker products have spoken to Bisnar | Chase lawyers about pursuing compensation for alleged injuries.
In November of 2007, The Food and Drug Administration (FDA) issued a warning (2) to Stryker regarding deficient and unsanitary conditions at the Stryker manufacturing facility in Mahwa, New Jersey. The FDA issued the warning due to Stryker Orthopaedics' failure to comply with the Current Good Manufacturing Practice (CGMP) requirements of the Quality System (QS) regulation.
If patients who are utilizing the Rejuvenate and ABG II modular-neck stems begin to experience pain, Stryker may be held liable for the injuries sustained by patients using their proudcts.
"While modular-neck stems provide surgeons with an option to correct certain aspects of a patient's anatomy and hip biomechanics, given the potential risks associated with fretting and corrosion at the modular neck junction, Stryker Orthopaedics decided to take this voluntary action," said Stuart Simpson, Vice President and General Manager, Hip Reconstruction.
Travis Siegel, Bisnar | Chase Stryker Hip Recall Attorney, is currently representing several defective product victims. "When medical product manufacturers fail to provide their consumers with reasonably safe products, patients who suffer injuries as a result of their use have the option to pursue compensation for their injuries. Our clients utilized hip replacement devices to help increase their mobility and live more fulfilled lives. They did not expect, nor should they have, to experience severe pain and undergo multiple revision surgeries," says Mr. Siegel.
Patients utilizing the Rejuvenate and ABG II modular-neck stems and are experiencing pain are encouraged to contact their health care professionals.
About Bisnar | Chase Hip Replacement Attorneys
Bisnar | Chase is a defective product law firm that has been assisting catastrophically injured victims since 1978. Brian Chase, Bisnar | Chase partner, is passionate about obtaining justice for consumers who have been injured by haphazardly made products produced by negligent manufacturers.
Mr. Chase has been awarded the "Trial Attorney of the Year" award and has obtained several multimillion dollar settlements and verdicts on behalf of his clients. In August of 2011, Mr. Chase obtained a $24.7 million verdict (3) on behalf of a defective product victim.
For more information about the Bisnar | Chase Law Firm, or for a free case evaluation, call 800-561-4887 to speak with a highly trained legal professional.
Attribution:
(1) - fda.gov/Safety/Recalls/ucm311043.htm
(2) - fda.gov/ICECI/EnforcementActions/WarningLetters/2007/ucm076583.htm
(3) - businesswire.com/news/home/20110819005797/en/BISNAR-CHASE-Announces-24.7-Million-Judgment-Woman
Superior Court of California, Los Angeles County, case # BC459289.