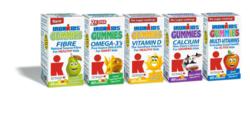 Maintaining a healthy fibre intake is a big challenge for many people both young and old.
Burlington, Ontario (PRWEB) August 14, 2012
Life Science Nutritionals is thrilled to announce the newest member of their IronKids and Adult Essentials Gummy Vitamin family! On store shelves now, the nut-free, dairy-free, and gluten-free Fibre Gummy Vitamin is available in both the IronKids and Adult Essentials product lines.
Aimed a children and adults who aren't getting enough fibre in their diet, each Fibre Gummy Vitamin contains 2.5 grams of fibre. That's 10 percent of the recommended daily intake of 25g suggested by Health Canada. Their great tasting fruit flavours of blue raspberry, cherry, strawberry, orange, lemon and pear makes getting your daily fibre easier than ever.
IronKids and Adult Essentials use the soluble fibre inulin, extracted from Chicory root. Soluble fibre is a soft fibre that helps lower blood cholesterol and control blood sugar levels while inulin fiber stimulates the growth of friendly and healthy intestinal bacteria needed to support good colon health.
"Maintaining a healthy fibre intake is a big challenge for many people both young and old," says Stuart Lowther, CEO and creator of IronKids and Adult Essentials Gummy Vitamins. "Everyone loves taking our gummies so it made sense to develop an all natural gummy fibre product to make getting the daily fibre requirement easier."
Heart and Stroke Foundation agrees, "Fibre is a vital part of a healthy diet, but most of us are getting less than half the recommended amount. A healthy adult needs 21 to 38 grams a day, but surveys show that the average daily Canadian intake is about 14 grams."
Fibre is needed to maintain proper digestive health. Among the many health benefits of fibre is preventing constipation, controlling blood sugar levels, lowering cholesterol, and regulating gastrointestinal function.
According to the Dieticians of Canada, "High fibre diets may also help prevent and treat a variety of diseases and conditions, including heart disease, cancer, diabetes and obesity."
Dietary sources of fibre include fruit, vegetables, whole grain rice, pasta, bread, breakfast cereals, seeds, nuts, lentils, beans and oats. For children and some adults, it can be difficult to consume enough of these high fibre foods to meet the daily fibre requirements. It's on those days that taking a fibre supplement may be necessary.
"We're proud to be able to continually introduce high quality, natural-based products, such as our new Fiber Gummie Vitamin," says Lowther. "Our Ironkids and Adult Essential fibre products give our consumer a great tasting, all-natural way to enhance and complete their daily dietary needs. Watch for more innovative products as we continue to develop our product lines to meet the nutritional needs of our customers."
The new IronKids and Adult Essentials Fibre Gummy Vitamins are available at Real Canadian SuperStores,Katz, Metro, Lawton Drugs, Shoppers Drug Mart and Sobeys.