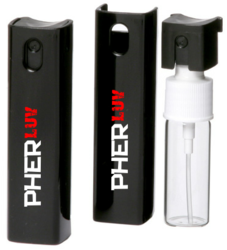 PherLuv is the strongest, purest, and most effective Pheromone Cologne on the market!
(PRWEB) August 10, 2012
Has a women ever told you that you smell great, even though you weren't wearing any cologne? The reason is that your body was giving off pheromones. Pheromones are odorless chemicals that our bodies produce that send out subconscious scent signals to the opposite sex. These signals trigger very powerful attraction responses and influence sexual behavior. Unfortunately extensive research has shown that more than 97% of guys either do not produce enough or do not produce them at a consistent rate to be effective.
Nowadays pheromone colognes and perfumes are all the rage. However pheromones let off a musky smell that can actually be a deterrent. For this reason many users of pheromone colognes have had no luck with pheromone products. But now, according to the creators at PherLuv, they have developed a product that has masked the musky animal like smell, while containing the highest pheromone potency available in today's market. According to the head creator of PherLuv, their products not only smell good, but they mimic the most popular designer fragrances.
If you're looking to enhance your sex life it would be beneficial to use pheromone colognes while at a club, or even in your everyday routine. The bad news is that there are so many bogus products claiming to have pheromones, but contain no real sex pheromones at all. Steer clear of these sleazy companies as they simply will be ineffective.
Good news is that every bottle of PherLuv is laboratory approved to guarantee maximum purity, concentration, and quality! All of the pheromones contained in each bottle are spelled out right on the label.