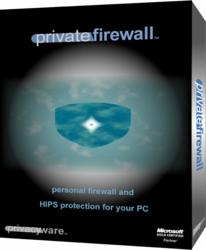 New Albany, OH (PRWEB) August 14, 2012
Privacyware, an innovative provider of web application firewall, pc security and security data analytics software, today announced that independent software testing and security research firm, Matousec.com, has released results for the latest round of their Proactive Security Challenge 64 and ranked Privatefirewall second among 33 popular PC security products tested.
Matousec.com Proactive Security Challenge 64 examines security software products for the Windows OS that implement application-based security models commonly used in Internet security suites, personal firewalls, HIPS and similar products. Privatefirewall was subjected to all 110 of the test routines that comprise Proactive Security Challenge 64 achieving an impressive score of 88% placing it second among all competitors.
"The latest version of Privatefirewall came with many great improvements, rising to second place in Proactive Security Challenge 64," said Matousec.com principal, David Matousek. "Privatefirewall's overall protection is very solid, especially given that only 9 of the 33 products we tested scored above 30%. What's more, Privatefirewall is also available free of charge!"
Proactive Security Challenge 64 is relied upon by consumers and businesses globally for its highly specialized independent security software evaluations and unique insights. Testing is comprehensive and evaluates defense capabilities for spying (i.e. keyloggers, remote administration tools, etc.), data leaks, malware infection, and the self-defense of the security product itself and many others.
"We are very pleased with Privatefirewall's exceptional performance in the latest round of the Proactive Security Challenge," said Privacyware CEO Greg Salvato. "Privacyware is committed to providing consumers and businesses with better defense capabilities to prevent system compromise and theft of sensitive data. Input from our ISV license partners and end-users is essential to our ability to deliver on this commitment in addition to the contributions from independent labs like Matousec.com. We are grateful for their continued commitment to helping vendors improve their products and ensuring that the consumers and businesses that rely on them are able to realize the greatest levels of system protection."
Privatefirewall is a leading free security software product for Windows PCs. Privatefirewall employs a multi-layered security architecture that combines a stateful Firewall, Process Monitor and Host Intrusion Prevention (HIPS) technologies to identify and block Trojans, keyloggers, code injection, program hijacking and zero-day threats and prevent system compromise and theft of personal data.
Privatefirewall's key integrated components include:

Process Monitor inspects and manages critical process functions and blocks malicious code injection and other hostile activity.
Anti-keylogger module blocks attempts by malware to record keystrokes or mouse input, read or simulate keyboard state, copy screen contents and more.
Advanced packet filtering via stateful firewall monitors all inbound and outbound communication between the PC and the Internet.
Process Detection component detects new process and blocks those classified as untrusted.
Highly configurable Application Control Engine manages precisely how applications can access the Internet.
System and email anomaly detection engines learn normal system and application use patterns to detect and block suspicious activity.
Privatefirewall provides an exceptional layer of additional protection for the Windows operating system, utilizes minimal system resources and delivers powerful out-of-box protection. Privatefirewall ranks among the top performing desktop defense applications tested against the industry's most rigorous leak, general bypass, spying and termination tests and was recently awarded a 5 star "Spectacular" rating by the Editors of CNET.
Complete details regarding Matousec.com, Proactive Security Challenge 64 and the Privatefirewall test report are available here:
http://www.matousec.com/projects/proactive-security-challenge-64/
Pricing and Availability
Privatefirewall 7 is free. Visit http://www.privacyware.com to download today. Privatefirewall supports 32 and 64 bit versions of Windows 7, Vista, and Server 2008/R2 as well as 32 bit versions of XP and Server 2003. Private label and OEM licensing and integration options are also available to ISVs, ISPs and hardware and peripheral equipment vendors.
About Privacyware
Privacyware (http://www.privacyware.com) is an innovative provider of award-winning web application firewall, pc security and security data analytics software. Privacyware products leverage conventional and advanced analytics technologies to help systems administrators, IT security and compliance personnel more effectively identify, understand and prevent malicious, unauthorized and/or deviant computing system activity. Privacyware is a member of the Microsoft Partner Network with Silver OEM and Independent Software Vendor (ISV) competencies.
Privacyware and ThreatSentry, Privatefirewall, and Adaptive Security Analyzer are registered trademark of PWI, Inc. All other registered or unregistered trademarks are the sole property of their respective owners. ©2012 PWI, Inc. All rights reserved.