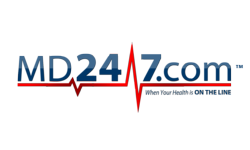 MD247.COM Reviews How They Built Their Business!
Tampa, FL (PRWEB) August 09, 2012
On August 08, 2012 Thomas Meehan of MD247.COM invited the "Elect Romney 2012" to tour the Largo Florida based supplemental telemedicine provider during the 2012 Republican National Convention. The invitation was extended as a response to the recent "I built my business" campaign, and to provide the "Elect Romney 2012" team the opportunity to learn more about the benefits of telemedicine.
"Mr. President, I built my business" has been a familiar refrain since President Barack Obama made an inflammatory speech in Roanoke Virginia earlier in July. The Roanoke speech suggested that most business owners, if not all business owners, owe the success of their business to government investment in local and national infrastructure as well as other areas. Needless to say, businesses like the telemedicine provider MD247.COM found little to like about the assertion that they did not build their business from the ground up. Reverence for the history of the office of President aside, Thomas Meehan has voiced a sincere concern that President Barack Obama is in no way engaged with small business owners across the United States.
If the "Elect Romney 2012" team is unable to tour the MD247.COM offices, Meehan indicated that any/all delegates with proper credentials are welcome to contact MD247.COM for a tour of a business the government did NOT build. Anyone interested in setting up a tour can contact the MD247.COM team at mgermann(at)md247(dot)com.
Largo Florida based MD247.COM (MD247; MD/247; MD 247; M.D.247; MD-247) provides an affordable telemedicine supplement to existing healthcare services. MD247.COM telemedicine program members have unlimited telephone access to a nationwide medical support team, all with just a single phone call to the MD247.COM telemedicine Talk to a Doctor/Talk to a Nurse Hotline. MD247.COM has a virtual platoon of registered nurses; board certified physicians and a support staff available to members for all non-emergency situations. More information about MD247.COM is available online at http://www.md247.com.