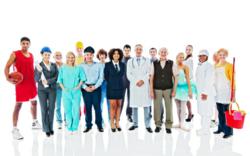 "Doing comprehensive Criminal Background Checks online, 24/7, saves your company time and money"
Cathedral City, CA (PRWEB) August 11, 2012
When John DiViggiano decided to start a new company to serve Coachella Valley businesses, he drew on a unique background and a unique business community for inspiration.
"I came here first as a snow bird," recalls John. "After five years, I fell in love with the area, packed up my life in Chicago and moved here permanently." Twelve years later, after running successful travel and vacation rental enterprises, John began to look for a financially viable way to serve the community that had captured his heart.
"In Chicago, I owned and operated a domestic services business," says John. "One issue that always challenged us was finding reliable workers who could be trusted with clients' homes and families. I realized businesses in the Coachella Valley face the same issues."
John launched Spectrum Business Solutions, LLC, a background screening company that supports both businesses and individuals looking for trustworthy employees—and the peace of mind that brings.
The Coachella Valley is one of the fastest growing areas in the country. Many of its businesses and enterprises are confronted with special challenges in maintaining a reliable workforce.
"The agricultural sector, the annual festivals, convention business—these all create a large base of seasonal and transient workers. That means increased security risks. A solid background screening can keep those risks minimal."
Many individuals face some of these same issues. "You have over a hundred thousand seasonal residents," observes John. "Many of those are upscale individuals who need maids, cleaners, gardeners and other domestic workers. A solid background screening can reassure them that their homes and their families are in good hands."
When designing Spectrum Business Solutions, John looked for screening services that would maximize the quality of the background check reports while minimizing the time and effort his clients had to put in.
"We have a state-of-the-art screening website. Once I train my clients or their employees, they don't have to call me, place and order and wait for it to turn around and be delivered to them. They just go online, click on a screening package specialized for their kind of business and launch an exhaustive search of millions of databases. The results are returned to them in an itemized report, always available on our secure, encrypted website. And they can do this 24/7, every day of the year." http://www.spectrumbusinesssolutions.biz
Having run businesses that required a personal touch, John looked for more than just convenience and automation to make his company stand out from the competition. "I have to make sure the kind of searches being run comply with the requirements of each company—like Fair Credit Reporting Act regulations and California state laws."
The Coachella Valley has certain businesses found in few communities around the nation—and that poses special challenges. "Any time you run a background check on an individual, you need to get their consent with a disclosure and release form," notes John. "Some Native American tribes require special forms, so if an area casino is hiring, you can't just send off a standard document. You have to respond to the particular needs of each business."
John knows one hurdle he has to overcome in securing new clients is demonstrating how simple the online screening process is. "I know once a customer tries it, they'll be hooked. So we offer two free screenings, without obligation. Trying it out for themselves is pretty much all it takes for an HR manager or employer to see the value we offer."
For John, the attraction of his new business goes beyond mere dollars and cents.
"Over twenty years ago, my wife was diagnosed with cancer. They only gave her a few years, but she lived twice as long as they predicted. I wouldn't have traded those extra years for all the money in the world.
"A company is more than its bottom line. It takes care of families, keeps them financially secure and safe. It sends kids to college. It fulfills people's dreams. If I can help protect those dreams, I'll consider myself a success."
# # #
Spectrum Business Solutions is a registered trademark in the United States and/or other countries. The names of actual companies and products mentioned herein may be the trademarks of their respective owners.