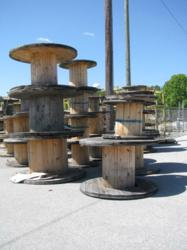 They had pinned several wedding decoration ideas to one anothers boards of Pinterest, but couldnt find the old barn wood to build what they loved
Lexington, Kentucky (PRWEB) August 14, 2012
Pinterest is often regarded as one of the fastest growing websites in the history of the internet, with millions of users "pinning" interesting things daily. The things these folks share with their network are among the most diverse things on the internet today, from puppies to cupcake recipes, the possibilities are endless. However, among these an overwhelmingly popular subject on the website is arts and crafts.
The arts and crafts on Pinterest are among the most unique you will find, and have provided millions with unique furniture, wedding, and household crafts on the cheap. But with these projects, comes a problem that leaves many disappointed with the resources it requires to complete the amazing projects. Fact is, some of the required supplies for the projects on Pinterest are often the style of things construction contractors may have left over, and the average American simply doesnt know where to start in the search for these products.
People like Jennifer Smith expressed this need to Contractor Yard Sale founder Andrew Pennington...."I had always looked around for an extremely unique idea for a coffee table. I found several I liked at a thrift store, but I really wanted to do a hands on type of thing. A friend of mine pinned a photo of a coffee table to my board on Pinterest that was made from a used wire spool, I instantly fell in love. However, when I started my search for the supplies, I realized that industrial wire spools werent just sitting on the shelves at the local Wal Mart."
Andrew Pennington realized that his new site could provided a mutually beneficial service to both construction contractors and Pinterest users.
"I really never considered the customers for my website were going to be users of Pinterest, until I overheard a few ladies talking about a problem they were having. They had pinned several wedding decoration ideas to one anothers boards of Pinterest, but couldnt find the old barn wood to build what they loved. I knew at that exact time, I had several active listings on Contractor Yard Sale selling antique barn wood."
Thus came a new angle for Contractor Yard Sale. An online marketplace originally intended for buying and selling of surplus and salvage building materials among construction contractors, Contractor Yard Sale is now the go to location for Pinterest users to find unique supplies for their projects for sale in their respective locations.
"As Contractor Yard Sale grows , the construction contractors are slowly moving away from the traditional things they had originally sold on Contractor Yard Sale like windows and doors, to a more unique style of item that caters to Pinterest users." Said Contractor Yard Sale founder Andrew Pennington.
"I really encourage users to post in the wanted section of our classifieds, in order to let the users of Contractor Yard Sale know exactly what it is they are looking for for their Pinterest projects. Often times the more traditional sellers on Contractor Yard Sale dont realize what they have as a surplus or salvage building material, may be priceless to a lady a few towns over preparing for a wedding. It sounds super simply, because it is... you tell them what you need, and more than likely someone has it!"
Contractor Yard Sale is a growing resource for the buying and selling of surplus and salvage building materials. Users register for free, and can place ads in any category free of charge.
Contractor Yard Sale can be found online at http://www.contractoryardsale.com