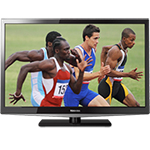 Atlanta, GA (PRWEB) August 30, 2012
Expert TV editors from 10rate pull together a list of the best 10 budget LCD and LED TVs for 2012. The small LCD TV category is still very important to the average North American consumer, so manufacturers are going to make sure these are solid sets at an affordable price. 10rate based their choices for the Best Small TV list according to the following criteria:
1)Solid Picture Quality based on:
A) Not too much motion lag
B) Somewhat decent side angle viewing
C) Color saturation and realism
2)Features Set (Internet, menu, remote, function)
3)Plenty of HDMI inputs
4)Appearance
5)Price/Value per size and quality
6) Sound Quality
7) Consistent Long Lasting with 1 year warranty
The 10rate editors awarded two of the most notable 32" to 42" LCD TVs out there as the Sony KDL32BX330 and the Toshiba 32L4200U. Some key features of the top ranked Sony LCD TV were highlighted in the review, "Off angle viewing is acceptable on this TV, with contrast starting to decrease at about 30 degrees off center. The remote control and menu operation is much better than all the 2nd Tier manufactured TVs this model competes with. Pricing is consistently around $330 – very compelling for a Sony product."
Toshiba's LCD TV scored just below the Sony as a good alternative. Editors said, "This value oriented 32" LED backlit LCD is being offered for a very attractive price. In addition to the upgrade to LED over LCD backlighting, the Toshiba 32L4200U offers Toshiba's upgraded sound system in the Audessey Premium package. It's a smart move as sound quality is so often overlooked in the smaller LCD TV sizes. "
10rate.com conducts reviews in various product and services categories and publishes "Expert Top 10 Lists for Everything in your life." The company's web site strives to "Make it Easy" to select from the hundreds of choices there are in the product and service market place. All products and services are thoroughly researched by the companies expert editors prior to receiving a rating on a 1-10 scale. In addition to product reviews the companies editors write guidelines, buying guides and articles on various topics surrounding each product or service category covered to help educate the consumer.