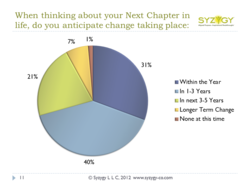 Evergreen, CO (PRWEB) August 10, 2012
Today Syzygy released the results of its survey of successful professional women, exploring what is top-of-mind when they think about their next chapter in life. The survey was developed after Syzygy President, Kami Guildner consistently found herself in conversation with seasoned women professionals who were considering the next steps in their life beyond their current roles.
Guildner shared, "The women I've met share the same story. They'd worked hard, climbed the ladder – yet something inside is beginning to shift – they are starting to wonder what's next? And so I wanted to learn more about what was behind these thoughts." It was these conversations that led Guildner to develop the You Version 2.0 – Discover Your Next Chapter Survey, with a goal of interviewing over 100 successful women professionals.
Survey Highlights:

The 101 respondents were professional women ranging from CEO's, to Vice Presidents, to Directors, with 66% of the respondents being age 46 and above. 73% were employed, and 22% were self-employed.
Over 70% of the women indicated their current work is tied to their strengths. In other words, they are doing work that they're good at and bringing their gifts to work each day. However, less than 50% indicated that their work is tied to their values (43%) passions (35%) and dreams (16%).
The respondents were given an open-answer question – "What three things in your life would you change?" The answers addressed life balance and more time with family, less stress, expanded personal relationships, more passion in their life and in their work, more fun and creativity, better health and increased energy levels and more stable finances. Many specifically indicated a change in their job and a change in the work that they're doing.
Unique to this Syzygy survey, the women were actually given the opportunity to envision their Next Chapter. They were asked to ponder "How do you spend your days?" "Who is around you?" "What is different?" "How do you feel?" This provided the respondents an opportunity to envision exactly what they'd like to manifest in their lives. The women had an opportunity to go deeper into their own personal journey – to set the bar a bit higher and then consider some action steps they might take to get it all started.
When thinking about their next chapter, 71% of these women indicated that they anticipate change taking place within the next 3 years! That's 7 out of every 10 women ready to launch their next chapter in the next 3 years! 31% of these women are anticipating the change this year!
One of the final questions asked, "When it comes to thinking about your Next Chapter, which of the following statements best reflects where you are today?" with the following multi-choice options:
35% say, "I know exactly what they want to do in their next chapter and have started the steps to manifest it."
10% say, "I know I need to do something different, I just don't know what it is or how to even think about it."
24% say, "I feel really stuck and don't see a way to get there."
11% say, "I'm going too fast to even be thinking about this!"
In launching the results, Guildner shared, "While I knew there was a strong undercurrent driving women toward change, I really didn't anticipate the statistic which indicated 7 out of 10 women anticipate moving into that change within the next three years."
When asked what she thought was driving this change, Guildner replied, "I believe the economy has kept people in jobs, when they might have otherwise left. With corporations asking more of fewer people, the life balance equilibrium has taken its toll. As changes to our economy show up on the horizon and people begin to see through to the other side, I predict we will see many people launching into meaningful transition." Guildner continued, "I think this is great for our society – it changes the pulse of women making a difference in our world, as they are drawn into more heart-felt work and living environments. It's what our world needs!"
The full report is available for download on the Syzygy Website at http://syzygy-co.com/survey/your-next-chapter-survey-results-from-101-women/.
With a goal of aligning life for purpose, Syzygy (http://www.syzygy-co.com) is dedicated to creating inspirational breakthroughs in personal growth through life and transition coaching grounded in experiences in stories, nature, passion and the power of positive. Guildner's coaching programs help people align their passions and live with intent. Her clients uncover their own brilliance and ignite the fire to make dreams a reality. Guildner is an Appreciative Inquiry Change Management Practitioner and Certified Equine Guided Education Coach.