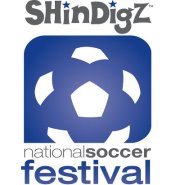 Fort Wayne, Indiana (PRWEB) August 09, 2012
The Shindigz National Soccer Festival will once again return to the Hefner Soccer Complex on the campus of IPFW Thursday, August 16th through Saturday, August 18th. Schedules and advance tickets are now available online at http://www.nationalsoccerfestival.com , at the IPFW box office as well as at area Walgreen's and Connolly's Do It Best Hardware locations.
For the first time in the history of the Shindigz National Soccer Festival, a professional team will compete against college teams. Chivas of Guadalajara will play the University of Notre Dame on Thursday, August 16th at 7:00 p.m. and Indiana University on Saturday, August 18th also at 7:00 p.m. The Chivas vs. Indiana University game will be televised nationally on Fox Soccer Channel. The Chivas of Guadalajara reserve team, made up entirely of Mexican professional soccer players, will put on clinics and will also be available for autograph sessions throughout their three-day stay in Fort Wayne.
The Chivas of Guadalajara team is scheduled to make several appearances throughout the city during their three-day stay in Fort Wayne. Stops include Foster Park West: off Winchester Rd east of Bluffton Rd, Georges International Market: 2021 Broadway Ave, Kreager Park: N River Rd, some of the Bandido's locations, the Woodland Lounge: 918 Woodland Plaza Run Suite H, Fort Wayne Sport Club: 3102 Ardmore Avenue and, of course, throughout the event at the Shindigz National Soccer Festival. The Chivas of Guadalajara team will be joined by legend Salvador "Chava" Reyes Monteón throughout its travels. He will be available for photographs and autographs throughout the event as well.
What began in 2000 has now become the nationally known phenomenon of the Shindigz National Soccer Festival. What was merely a soccer event has now turned into a full-fledged, grass roots community supported soccer festival. Corporations, foundations, and personal donations are the backbone of the festival. The beneficiaries of the event are the city of Fort Wayne for the national recognition it receives; the area youth for the hands on interaction with the soccer players and coaches from national major universities; the local business people of Northeast Indiana, for the added commerce brought to the area; the area universities, for the added exposure and the average Fort Wayne citizen who knows nothing about the game, but loves to have fun in a family oriented atmosphere.
Currently, the Shindigz National Soccer Festival has evolved into a true community soccer festival, including youth clinics put on by major university coaches and players, wide ranges of live entertainment, opportunities for youth involvement, food vendors, giveaway prizes, and for the 21 and older crowd, beer tents, all located at the beautiful Hefner Soccer Complex on the campus of IPFW in Fort Wayne, Indiana.
Shindigz National Soccer Festival is honored again, this year, to bring top-ranked college soccer teams, along with a highly prestigious Mexican professional team, to Fort Wayne. Due to the great history of the event, Shindigz National Soccer Festival has been recognized nationally as the premier event to attend for pre-season collegiate soccer.
For further information, please contact Terry Stefankiewicz, President of Shindigz National Soccer Festival at 260-750-3967 or terrystefankiewicz(at)gmail(dot)com .
About Shindigz
Since 1926, Shindigz devotes itself to customer satisfaction and a mission "to make life more fun." Serving the United States and over 59 countries world-wide with over 22 million events, Shindigz has exclusive rights to license, produce, and sell Elvis Presley party supplies. For more information, visit http://www.Shindigz.com.