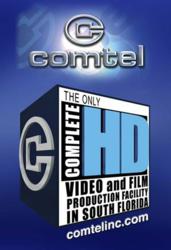 Miami, FL (PRWEB) August 11, 2012
Comtel, the only full service high definition production facility in Miami, FL, announced today that it signed an agreement to provide studio and production services for Blaya Media Production LLC's new program, Hablemos claro con Cuauhtemoc. Blaya Media's founder and CEO is Spanish media legend, Joaquin Blaya, well known for his instrumental role in developing the Spanish language media market in the US.
With over 25 years as a leader in the South Florida market, Comtel, Inc. is Miami's only full service HD production and post production facilities, providing extraordinary service and quality staffing for the television, film and digital media industries. Some recent Comtel clients include: Sportman's Adventures, Florida Insider Fishing Report; Zumba Fitness; Bloomberg, Sportsfolio Sports Financial Show and MTV/Tr3smusic video productions.
"We are thrilled to have the Hablemos claro con Cuauhtemoc show produced in the Comtel facility. We look forward to providing them with the highest quality service and complete HD production facilities & personnel for years to come," said Dolores Sukhdeo, COO of Comtel, Inc.
"Comtel and its team have been incredible to work with," said Joaquin Blaya. "We look forward to producing the next big Spanish media hit at the Comtel studios."
About Comtel
COMTEL, established in 1981, provides complete HD production and post production services to South Florida. COMTEL has two of the largest sound stages in South Florida, complete HD editing facilities, and is one of the only facilities in South Florida for transmission in HD.
About Blaya Media
Blaya Media Productions LLC was founded by Spanish Media veteran Joaquin Blaya, responsible for many of Spanish media's most successful programs. Blaya Media recently signed an agreement to produce the show, Hablemos claro con Cuauhtemoc, for Telemundo. The show is hosted by the famous Mexican author Carlos Cuauhtémoc Sanchez.