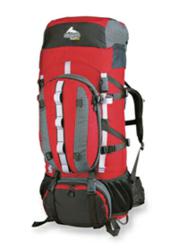 Atlanta, Georgia (PRWEB) August 27, 2012
Editors from 10rate create a list of the Best Men's Backpacks and Best Women's Backpacks. These backpacks differ from normal backpacks because they are supposed to carry everything needed for survival in the wilderness. These packs are specially designed to shift weight for maximum comfort, fit all needed gear, and are durable enough to handle long stays in the back country. 10rate based their choices for the best men's backpacks according to the following criteria:
1. Comfort and Wearability
2. Volume Capacity
3. Weight Efficiency
4. Compartmental Features
5. Hydration Capabilities
6. External Straps and Stability Features
7. Frame Support
8. Cost/Value
The 10rate editors noted that two of the most notable backpacks out there as the Mountain Hardwear BMG and the Gregory Baltoro 75. Some key features of the top ranked Mountain Hardwear pack were highlighted in the review, "If it's good enough for the pros, it's good enough for me. Designed to be used by professional mountain guides, this pack has a mammoth 7,000 cubic inches of capacity despite weighing less than six pounds. Its sleek design and numerous compression straps allow you to tighten your load down as much as possible."
The Gregory bag came in on the list right behing the Mountain Hardwear as a good alternative choice. Editors said, "At the intersection of performance and cost lies this pack. A large one (based on torso size) carries enough gear for a full week of three-season trekking, and it's as comfortable as anything on the market with its trademarked Response AFS suspension system and thermo-molded back padding that can be contoured to the exact curves of your back."
10rate.com conducts reviews in various product and services categories and publishes "Expert Top 10 Lists for Everything in your life." The company's web site strives to "Make it Easy" to select from the hundreds of choices there are in the product and service market place. All products and services are thoroughly researched by the companies expert editors prior to receiving a rating on a 1-10 scale. In addition to product reviews the companies editors write guidelines, buying guides and articles on various topics surrounding each product or service category covered to help educate the consumer.