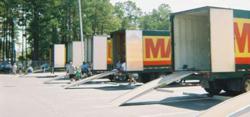 Charlotte, North Carolina (PRWEB) August 14, 2012
After the Bike MS: Breakaway to the Beach fundraising event held by the Greater Carolinas Chapter, a Charlotte moving company will not have the usual household goods inside its moving trucks. Instead, five of the Charlotte Van & Storage trucks will be filled with blanket-wrapped bikes - bikes that traveled hundreds of miles to reach the final destination of Sunset Beach, N.C. These bikes will be transported to five locations throughout North Carolina and South Carolina for easy pickup by the cyclists. The cyclists are heroes in the eyes of those living with MS, as all donations will go to support programs, services and research sponsored by the National Multiple Sclerosis Society.
The Charlotte movers will be at the finish-line cheering on the cyclists as they near the beach. The cyclists begin their journey at one of two locations, either in Monroe, N.C. or Kershaw, S.C. An overnight stay will occur at Francis Marion University in Florence, S.C.; then, the final destination appears on day two at Sunset Beach, N.C. The riders can choose between taking the short route (50-75 mile) or the long route (100 mile) route each day.
"We [Charlotte Van & Storage] consider it an honor and a privilege to serve MS in this way," said Frank Watson, IV, president of Charlotte Van & Storage.
The movers of Charlotte Van & Storage are just some of the hundreds of volunteers that come out to make this event a success year after year. In its 14th year of participation, Charlotte Van & Storage looks forward to this event each year to see the community involvement and act of selflessness to donate time, energy and money toward a wonderful cause with no expectation of receiving something in return. An average of 1,500 cyclists come out each year to show their support to those suffering from MS.
About Charlotte Van & Storage
The Charlotte moving company, Charlotte Van & Storage, was founded in 1955 by Frank Watson, Jr. These North Carolina movers began with household moving and expanded to include services such as specialized moving, commercial moving, corporate relocation, international moving, warehousing and distribution services, as well as logistics. As an agent for Mayflower, you can always expect a prompt move by the Charlotte movers. An on-time delivery by modern moving equipment is always guaranteed.