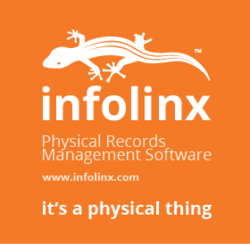 right application to increase the efficiency of their work-flow processes while concurrently addressing their technology and government initiatives
Kensington, MD (PRWEB) August 21, 2012
Infolinx WEB Software is a feature-rich, enterprise class web application, requiring only a contemporary web browser and is uniquely architected for the complete life-cycle management of physical records. This particular implementation facilitates the tracking of federal bills and other legislation to members, committees, and public clients.
"We have been partnering with this legislative branch for the past three years in developing the right application to increase the efficiency of their work-flow processes while concurrently addressing their technology and government initiatives," commented Tim Butler, Managing Director of Infolinx.
Along with the industry-leading records tracking capability, this Infolinx WEB solution also includes automated data creation and document inventory capability, managing quantities of available items and facilitating alerts when those quantities reach critical levels..
About Infolinx
Infolinx System Solutions is a leading provider of DoD5015.2-certified enterprise physical records management software. Full life cycle records management for records centers and file rooms includes integrated Enterprise Content Management, robust searching, online requesting, complete audit history, location reconciliation, supply item ordering, retention schedule and legal holds management, integrated RFID technology, space management with charge-back functionality, extensive reporting capability, advanced security configuration, workflow email notifications, and legacy data sharing. Infolinx maintains clients within all major business segments and the public sector. Infolinx System Solutions Demo