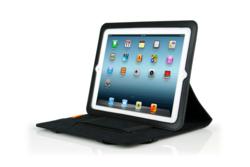 We wanted to take the existing success of the previous model and rework it to make it even better than it was before." - Brian May, Us+U Founder and Lead Designer
Chattanooga, TN (PRWEB) August 20, 2012
Us+U, manufacturers of high-quality lifestyle accessories, has launched the Swivel ProFolio for the third-generation iPad. This exclusive case utilizes the Us+U patent-pending Swivel Technology handle that gives users the freedom to rotate the iPad 360º degrees in any direction, all while holding it in one hand.
Swivel ProFolio™ combines the exceptional workmanship, ingenious design and commitment to quality that customers have come to expect. The case features a self-adjusting hand strap, center-mounted pivot and a hinged back panel to give users effortless access to any angle that they want or need, whether they're taking notes during a meeting or catching up on their favorite television show at home or on the go.
According to Brian May, Us+U Founder and Lead Designer, "We wanted to take the existing success of the previous model and rework it to make it even better than it was before."
Features:

ROTATING HANDLE: The fully rotating/swiveling handle is completely self-adjusting. The self-adjusting hand strap (handle) is designed to avoid annoying Velcro sounds. This key design feature is paramount in professional business situations, and allows users to effectively use their iPads without calling so much attention to them.
WORK MODE: The built-in, flush-mount kickstand is perfect for typing on the iPad's keyboard or for viewing the iPad's screen at a lower angle. The Swivel ProFolio's typing kickstand also has a convenient center cutout, perfect for using the iPad while resting it on one leg.
CORPORATE USE: The Swivel ProFolio is the perfect iPad case for commercial, enterprise and personal use. Both the Swivel Pro and Swivel ProFolio iPad cases for the iPad 1 and iPad 2 are in use at some of America's largest companies, ranging from pharmaceutical and healthcare to automotive and financial industries. The new Swivel ProFolio can accommodate both the iPad 2 and iPad 3.
VIDEO MODE: The Swivel ProFolio's design accommodates multiple upright angles for watching videos or using the iPad in an upright viewing angle. The ability to adjust the upright angle is key to any iPad cases' versatility. Whether the user is reading, sitting at a desk or lying in bed, the correct angle of viewing always enhances the experience.
POCKET/PEN HOLDER: The external pocket on the front of the Swivel ProFolio iPad case is convenient for holding business cards, notes, receipts, etc. Because this iPad case will hold a pen/stylus, the packet is perfect for holding a small notepad.
Us+U's drive to deliver innovation is not limited to designing new features and products. The company is committed to making a difference, and three percent of net profits are donated to charities that support environmental stewardship and human compassion. This focus on giving back is central to the Us+U philosophy, and is incorporated into each product design. By contributing to others who do good in the world, Us+U works to set a standard in corporate responsibility.
The Swivel ProFolio is available now for $69.99 at: http://usplusu.com/store/cases-for-ipad-two-and-three/swivel-profolio-for-ipad-2-3
About Us+U:
Founded in 2010 by Bryan May, Us+U http://www.UsPlusU.com is a company that creates, designs and markets unique electronic accessories for the technology industry. These accessories are exceptionally well designed and offer our customers a variety of imaginative features that make them the most functional on the market.
©2012 Us Plus You, LLC. All rights reserved. Us+U and all Us+U logos, trademarks and symbols are the property of Us Plus You, LLC. All other logos, trademarks and symbols are the property of their respective owners.