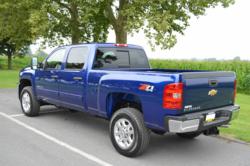 ...the political noise that surrounds the American automotive industry goes right out the window when you're at the factory and meet the American workers...
Lancaster, Pennsylvania (PRWEB) August 10, 2012
Concluding months of in-depth product evaluation and research, Truck Camper Magazine has announced their new project truck; a 2013 Chevrolet Silverado 3500.
"We require a truck with enough payload capacity to carry a four-thousand pound loaded and wet truck camper, while having the off-road capability and luxury we demand. The 2013 Chevy Silverado 3500 HD was our top choice," explained Gordon White, Publisher of Truck Camper Magazine.
With four-wheel drive and the ability to tow toys including boats, horse trailers, ATVs, snowmobiles, and utility trailers, truck campers are the ultimate off-road ready recreational vehicle and the perfect base camp for hunting, fishing, nature photography, overland travel, exploring national parks, and beyond.
"Truck campers are the Jeeps of the RV marketplace. When motorhome and towable RV owners are parked in expensive campgrounds a few feet from the next RV, truck campers are off-road, off-the-grid, and exploring; all in the lap of luxury." states Gordon.
Gordon continues, "We will be using our new 2013 Chevy Silverado 3500 to test many different truck camper makes and models in a wide array of exciting off-road environments. Subscribe for free today and follow our adventures in Truck Camper Magazine."
For the complete selection process and review of the 2013 Chevrolet Silverado 3500, including full truck photography, visit http://www.truckcampermagazine.com.
About Truck Camper Magazine
Founded in 2007, Lancaster, Pennsylvania based Truck Camper Magazine is the only media dedicated to slide-in truck campers; the ultimate off-road and off-the-grid recreational vehicle.
From our Buyers Guide with fifteen modern hard-side and pop-up truck camper manufacturers, to our globe trotting Off-Road and Expedition section, Truck Camper Magazine is the leading international voice in the truck camper marketplace.
Truck Camper Magazine. Go anywhere, camp anywhere, tow anything.
For more information about Truck Camper Magazine, email gordon(at)truckcampermagazine(dot)com, or visit http://www.truckcampermagazine.com.