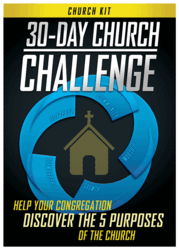 COLORADO SPRINGS, CO (PRWEB) August 09, 2012
In a culture where "church" has lost significant meaning to many, the 30-Day Church Challenge is drawing thousands of churches to examine their foundational purposes. In a concentrated focus through a variety of media on scriptures in Acts, congregations will repurpose to reach their biblical potential and transform their communities.
In a recent Barna survey, three out of five church-goers said they could not remember something they learned at church the last time they attended. Of those surveyed, half had been in church within the last week.
The challenge for churches is clear. The 30-Day Church Challenge provides an opportunity to bring back the significance and make church meaningful to people's daily lives.
"By refocusing on the five main purposes of the church and living them out, congregations won't just come to church; they will become the church," said Eric Abel, vice president of marketing at Outreach, Inc. "Our communities are searching not just for a place to go, but for a community of faith. The church can become that powerful, inspirational and transformational Body of Christ."
The 30-Day Church Challenge is a five-week series based on the biblical model of the church, found in the book of Acts, that will challenge church congregations to: devote themselves to authentic community, develop worship lifestyle, commit to spiritual growth, embrace stewardship and generous lifestyle, and engage in sharing God's love and the Gospel with others.
These five aspects are introduced through customizable sermons with specific weekly challenges and video sermon illustrations on the resource DVD. Small-group DVD-based studies reinforce the week's focus to ignite congregations to bring back the biblical significance of church in their own lives. Additional media support, graphics and planning tools are available.
Outreach, Inc. founded in 1996, has quickly grown to become the largest provider of church outreach products and services in the world. With a mission to share God's love and empower the church to share the message of Jesus Christ, Outreach provides cost-effective, proven methods and resources in a variety of forms, including books, media and film, church campaign materials and more. Located in Colorado Springs, the company has established five divisions under the umbrella of Outreach, Inc.
To learn more about the 30-Day Church Challenge and resources, visit http://www.outreach.com.
To schedule an interview with Eric Abel, contact Ty Mays at 770-256-8710 or tmays(at)inchristcommunications.com.