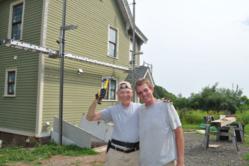 I was delighted to be able to help a family that wouldn't normally be able to buy a home
Hamden, CT (PRWEB) August 11, 2012
Founded in 1986, Habitat for Humanity of Greater New Haven (an affiliate of Habitat for Humanity International) is a nonprofit organization dedicated to the elimination of poverty housing through the creation of home ownership opportunities for low-income working families. Habitat builds and rehabilitates homes in the Greater New Haven area with the goal of creating safe, decent, affordable houses that add to the revitalization of New Haven's neighborhoods. Habitat accomplishes its mission by partnering with individuals, religious and civic organizations, local business and corporations.
Sleeping Giant Build is a community based organization partnering with local businesses, religious organizations, civic groups, individuals and our partner families to eliminate poverty housing in the greater New Haven area.
Through volunteer labor and donations of money and materials, Habitat builds and rehabilitates simple, decent houses with the help of the homeowner (partner) families. Habitat is not a giveaway program. Habitat houses are sold to partner families at no profit and financed with affordable loans. In addition to a down payment and the monthly mortgage payments, homeowners are required to invest hundreds of hours of their own labor — sweat equity — into building their Habitat house and the houses of others.
The home on Gilbert Street in Hamden has a unique history. Formerly a 35 acre apple orchard contaminated with pesticides, the property was abandoned 10 years ago. Habitat for Humanity purchased the property from the city, cleaned up the contamination, and made the property available for auction.
Dr. Gold hung sheet rock in the home's kitchen, under the supervision of one of the project managers.